HEWI MAG / knowledge
How Covid-19 will change the way public sanitary facilities are equipped
The equipment of sanitary rooms is subject to constant change, because trends and standards determine the bathroom design of tomorrow. One thing above all has priority at present: hygiene. We will show you how a sustainable bathroom must be designed to eliminate as many risks of infection as possible.
The global outbreak of the Corona pandemic requires a rethink of architecture and interior design. The topic of hygiene currently plays a special role in public sanitary rooms alongside design, function and quality.
Even with good cleaning intervals, sanitary facilities in schools, office buildings and buildings accessible to the public such as railway stations or shopping centres are fertile ground for a large number of pathogens and thus represent an increased risk of infection.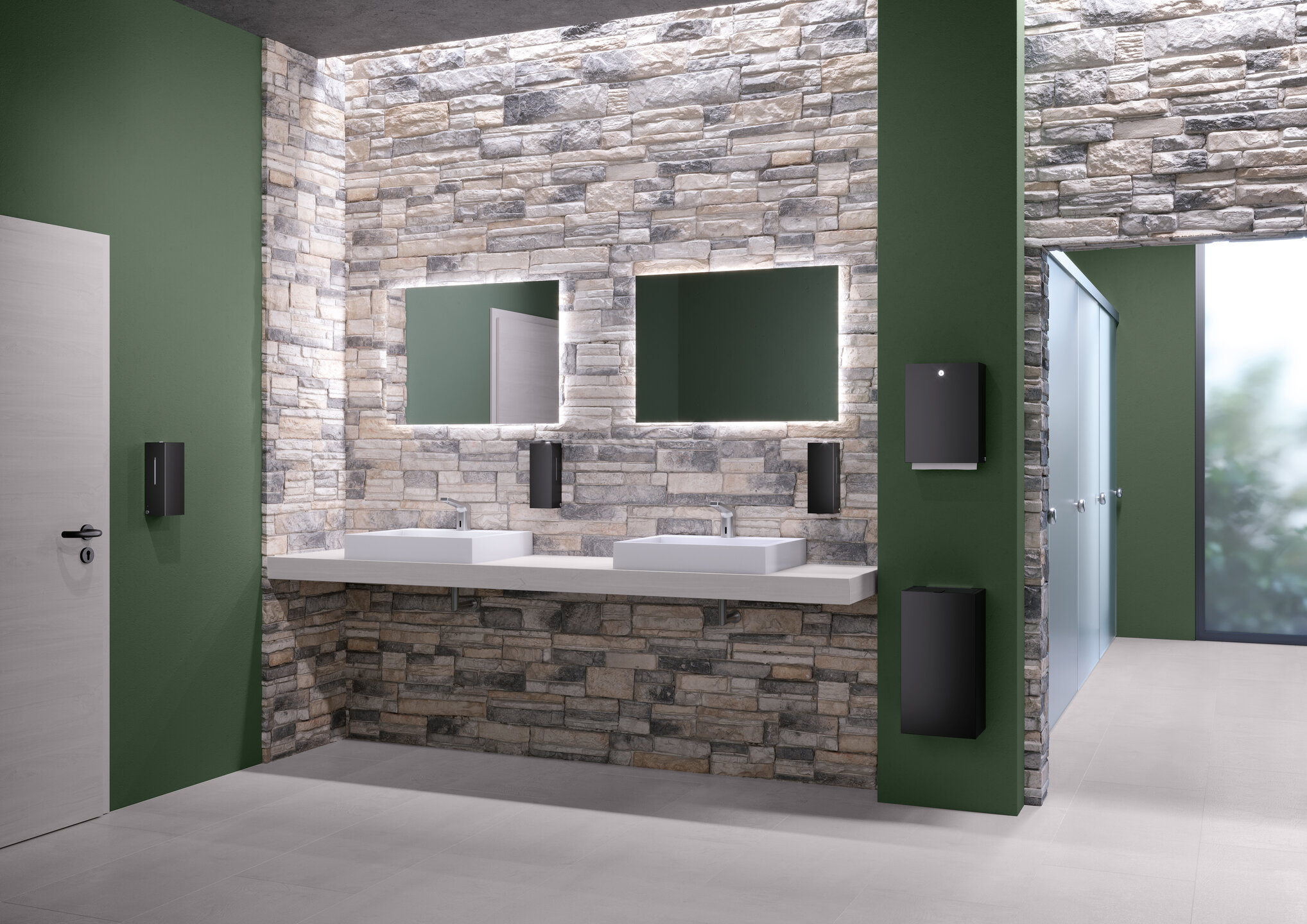 Sensoric disinfectant dispenser
HEWI disinfectant dispensers are available in stainless steel and with powder coating and thus offer design scope. In the contact-free Sensoric version, they provide an additional plus in hygiene in all areas of the building.
Paper towel dispensers
The use of paper towel dispensers instead of hand air dryers leads to a significant reduction in the bacterial and viral load in sanitary rooms. In air dryers, an accumulation of bacteria and viruses can be caused by previous users with insufficiently cleaned hands. The hygienic removal of individual sheets of paper considerably reduces the risk of infection.
Sensoric soap dispenser
Touch-free soap dispensers effectively increase hygiene in the sanitary room - they allow easy and clean removal of consumables. Well thought-out details make stocking up easier. For example, the inner container of soap dispensers can be removed for cleaning and filling; they also have a level indicator.
Doorhandle 115
One of the most common ways of transmitting bacteria and viruses to humans is the door handle. Thanks to its clever ergonomic design, lever handle 115 can be easily operated with the elbow without touching the door handle with the hand. This reduces the risk of infection.
Sensoric fittings
HEWI Sensoric System fittings offer maximum hygiene. The fitting does not need to be touched to release. They are released by activating the sensor - a hand movement is sufficient for this. The water flow ends after a preset time interval. This also allows the valuable resource water to be saved efficiently.
Contactless use reduces the risk of infection
Besides infection through the air we breathe, the transmission of viruses and bacteria via the hands is the second most common source of infection. From the time we enter and leave the sanitary rooms, which are equipped with common dispenser systems, we touch up to 20 objects so far - starting with the door handle, the soap dispenser and the lever of the fitting.
You can significantly reduce the probability of transmission by using well thought-out, hygienic equipment solutions.
HEWI solutions for more hygiene in public sanitary rooms
1.) To avoid the risk of infection, non-contact product solutions are recommended. HEWI offers a wide range of products in a non-contact Sensoric version. Thus fittings, soap and disinfectant dispensers no longer represent a risk of transmission.
2.) Matching paper towel dispensers complement the HEWI systems. In contrast to hand drying blowers, these do not cause any germ contamination. If it is not possible to convert to electronic fittings, the paper towels are also used for hygienic operation.
3.) The solutions of the series active+ also provide a plus in hygiene. The integrated microsilver provides antimicrobial protection on product surfaces where contact cannot be avoided.
4.) HEWI Sensoric System fittings offer maximum hygiene. The valve does not need to be touched to release it. They are triggered by activating the sensor - all that is needed is a hand movement. The water flow stops after a preset time interval. This also enables the valuable resource water to be saved efficiently.
5.) HEWI mit System 115 enables doors to be opened without contact. The lever handle is designed so that the user can easily operate it with his elbow. The hygienic surface of non-porous, high-gloss polyamide is also particularly easy to clean.
Even individual measures contribute to a significant improvement in hygiene. Discover the new HEWI dispenser systems in detail in our online seminars.