HEWI MAG / Knowledge
How the right room design for senior citizens promotes independence and orientation
Germany is in the midst of demographic change. Society is aging, while at the same time fewer children are being born. 20 percent of people over 60 and 16 percent of people over 75 are moving into apartments that they can live in well into old age. These should support them in their independence for as long as possible. In this article, we explain what is important in age-appropriate interior design for seniors.
Today, owners are building more and more houses and apartments to meet the requirements of a wide range of target groups. In order to be able to respond adequately to the ageing population, you as an architect are required to develop new concepts. Product development must also adapt to the needs of these target groups. Because: The demands on living are changing. Most people want to remain at home and live independently for as long as possible in old age.
Barrier-free room design for seniors
Homes or apartments for seniors should be designed to be barrier-free. Accessibility does not only benefit older people. Rather, it fulfils the goal - in accordance with the Universal Design Principle - of enabling access and use for all people. Private space is to be explicitly included. But what does this mean for interior design for seniors? An apartment is barrier-free when
it is accessible without steps and thresholds,
it has a floor-level, barrier-free shower or generally a barrier-free bathroom,
the doors have a width of at least 80 cm,
the movement areas in the bathroom, hallway and kitchen are at least 120 x 120 cm (for wheelchair users at least 150 x 150 cm),
it has good technical equipment and lighting.
A special plus are grab rails, sitting and standing aids. These provide particularly good support for people with limited mobility. Incidentally, there are attractive funding opportunities for the renovation of bathrooms. Further tips on accessibility - for example with regard to DIN specifications - can also be found in our free planning aid.
How important are colors in senior interior design?
Studies have shown that colours and contrasts play a major role in interior design for seniors. If the eyesight decreases, strong colours and contrasts are useful because they provide orientation. This is particularly essential for dementia-friendly interior design. DIN 32975 includes barrier-free visual design and recommends the use of colour contrasts. If planners or architects decide to use colour and contrasts specifically in the interior design for seniors, this is extremely effective for the residents of apartments.
Advantages of colours and contrasts in interior design for seniors
Colour accents give impulses. Many people are still very mentally fit into old age. However, almost all of them gradually become more immobile, have less strength and no longer hear and see as well, as the lens of the eye becomes hardened and cloudy. Older people, however, continue to perceive color and brightness contrasts very well. The System 900, for example, is well suited for use in barrier-free bathrooms. With its large colour variation, our barrier-free sanitary system offers numerous design options. All products in the sanitary series have been thought through down to the smallest detail - including the colour design. The folding support handles and folding seats are available in a chrome and stainless steel look as well as with a matt surface. Deep matt white, light grey pearl mica, dark grey pearl mica as well as black make it possible to set strong contrasts in bathrooms suitable for senior citizens. At the same time, all products offer safety and comfort. In addition, there are practical accessoires that perfectly complement the System 900.
HEWI dispenser systems - hygiene at the barrier-free washbasin
HEWI dispenser systems meet the highest demands in terms of design and functionality. Both manually operated variants and a selection of electronically controlled, touch-free dispensers are available. The wide range of materials for the dispenser systems offers design options. The HEWI range includes versions made of polyamide, antimicrobial polyamide, models with powder coating in black, grey tones and white as well as stainless steel variants.
HEWI soap dispenser and disinfectant dispensers can be used in all barrier-free sanitary rooms. The System 800K soap dispensers are particularly suitable for barrier-free washbasin areas in the Care sector. They are designed in a contrasting colour and can therefore be easily perceived by people with visual impairments. The contrasting colour here refers to the push-button for dispensing the soap. Its slightly roughened surface also makes the functional element tactile.
The sensory soap dispensers and disinfectant dispensers, such as the dispenser from the System 900, ensure greater hygiene in the sanitary room thanks to their touch-free operability. A built-in cylinder lock makes the dispenser theft-proof and the soap or disinfectant cannot be stolen. The dispenser is permanently installed on the wall.
The HEWI paper towel dispensers are also permanently mounted on the wall. In combination with HEWI waste containers, they provide a good option for hygienic hand washing in shared sanitary rooms. The innovative barrier-free sanitary solution is distinguished by its robustness and its integrated lock mechanism, which provides protection against misuse. Overall, HEWI offers a consistent, functional range of dispenser products that is also characterised by the highest design standards.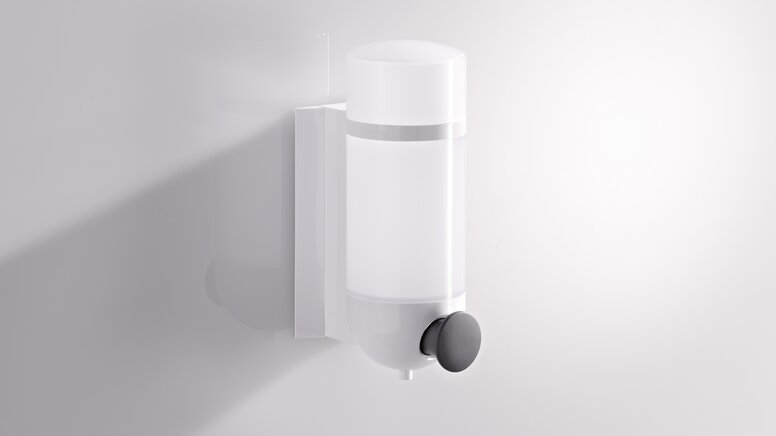 Free planning and advice offer from HEWI
Would you like to make your home barrier-free but need support as an architect or planner? Our free planning service will advise you personally. You will find the right contact person in our Service Center.
Feel free to contact us!