HEWI Mag / references
Sauna Löyly, Helsinki
Saunas are part of Finnish culture and national identity. With 3.3 million saunas on only 5.4 million fins, the country probably has one of the highest sauna densities in the world.
The former industrial area "Hernesaari" on the Helsinki seafront is developing into a modern residential area. For residents and tourists, the architectural firm Avanto has developed the Löyly sauna here.
The sauna is located just two kilometres from the centre of Helsinki. Nevertheless, it is already located in the outer archipelago and will become part of the Helsinki Park, which will connect the Finnish capital with the sea.
The traditional sauna is located in a wooden building directly on the shore. The hilly silhouette of the sauna is reminiscent of the Finnish coastal landscape. The partly angular contours are also reflected in HEWI's Series 100 washbasin in the barrier-free WC in the sauna.
Good to know: By the way, löyly is the name of the steam that is created when water is poured onto the hot stones in a sauna. Due to the loose and facetted construction of the building, it blends into the part of the park and appears less than a conventional building. The light-coloured wood turns grey with time and thus takes on the colour of the rocks on the shore. The architectural idea behind the löyly sauna is simple. The central point of the whole construction is a rectangular box. This is where the sauna and restaurant rooms are located.
This black box is surrounded by a shell of symmetrically arranged wooden struts. These have several functions. They offer visitors protection from unwanted glances. But do not restrict the view from the interior to the sea. Towards the sea the building flattens and offers visitors a panoramic terrace. Partly it lies on the water, so that you can hear the sound of the sea under your feet.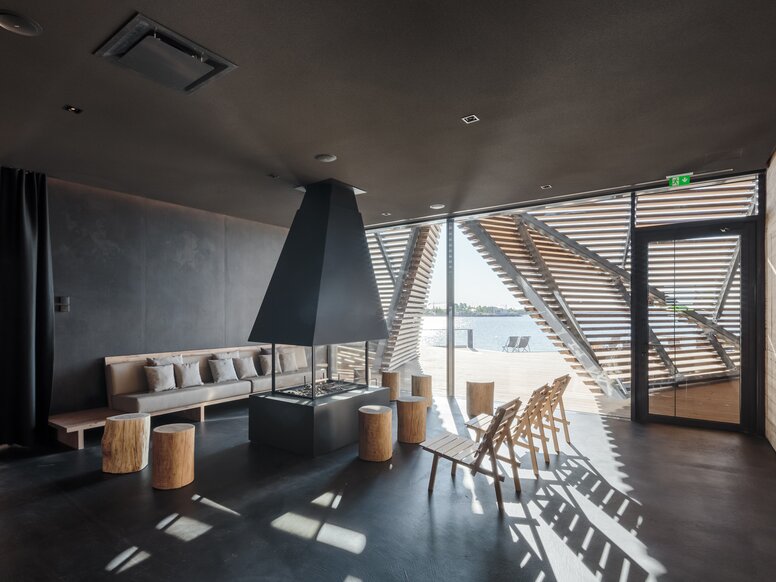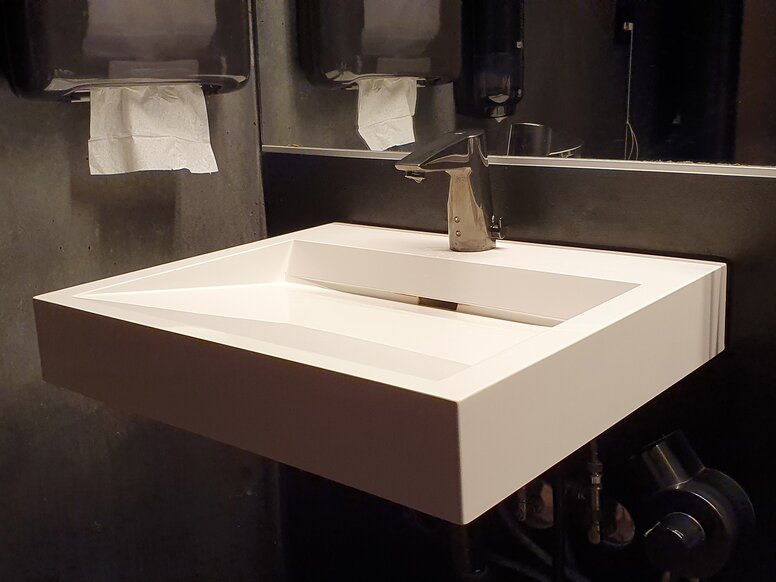 The washbasin from HEWI's System 100 blends in perfectly with the geometrical shape of the building. In the barrier-free sanitary area of the restaurant and sauna, the aesthetically designed washbasin for comfortable bathroom fittings blends harmoniously into the design concept.
The most important materials for the interior are black concrete, light Scandinavian birch wood, blackened steel and wool. All materials have been selected by the interior design office Joanna Laajisto Creative Studio for their durability and longevity. All in the spirit of sustainability.
"We want our architecture to be a powerful experience, like jumping into ice-cold water." - Avanto Architects.
Avanto Architects is an architecture firm founded in 2004 and based in Helsinki. Avanto means "hole in the ice" and refers to the popular Finnish hobby of winter swimming.
With partners from various disciplines worldwide, the architectural firm is creating a new kind of place where design, sustainability and personal experience are the key elements. Avanto has won over twenty international awards and received significant global press coverage and is one of the most prominent Finnish architectural firms
Photos
kuvio architecture photography, HEWI
Location
Helsinki, Finland
Architect
Avanto Architects ltd
Client
Antero Vartia, Jasper Pääkkönen & Kidvekkeli Oy