Hinged support rails
Functional design
A hinged support rails offers support for limited strength and mobility. They increase safety in all areas of the barrier-free bathroom - whether at the washstand, WC or shower. An ergonomically designed, two-dimensional grip level enables a secure hold. Due to their dimensions, HEWI hinged support rails can be gripped optimally so that you can easily support yourself on them or pull yourself up. They can be supplemented by comfort elements, such as an upgrade kit for a toilet roll holder or an arm pad for a particularly comfortable support. Hinged support rails can be folded up to the wall to save space. Fixed support rails are also available. The Duo folding support handle also has a round lower rail and thus provides optimum support when turning it sideways into the WC.
A wide range of materials (polyamide, stainless steel, chrome and WARM TOUCH) and designs offers design options, so that the support folding handle can be selected to match the sanitary accessories. The hinged support rails are available as a mono version with one handle level or as a duo version with a second handlebar, which facilitates the transfer from the wheelchair to the toilet. The Duo hinged support rails can also be supplemented with a floor support. They are available in various lengths to meet country-specific requirements for barrier-free construction.
System 900
Sophisticated functions
The System 900 folding support rail is available in various configurations - from the minimalist mono folding support rail to the fully equipped duo folding support rail with toilet roll holder and radio-controlled WC flush release. The System 900 hinged support rails have a maintenance-free brake. This dampens the lowering of the folding support handle. The spar can be moved up and down with little effort. If the angle is greater than 45°, the support folding handle remains in any position and can be lowered or folded towards the wall with little force. From an angle of 45°, the tie bar automatically lowers gently. The bearing of the joint is wear-free, maintenance-free and free of play and guarantees smooth running of the support folding handle. A defined stop prevents the support folding handle from hitting the wall. The hinged support rails are designed to provide extreme stability. An additional stiffener increases safety and provides reliable support.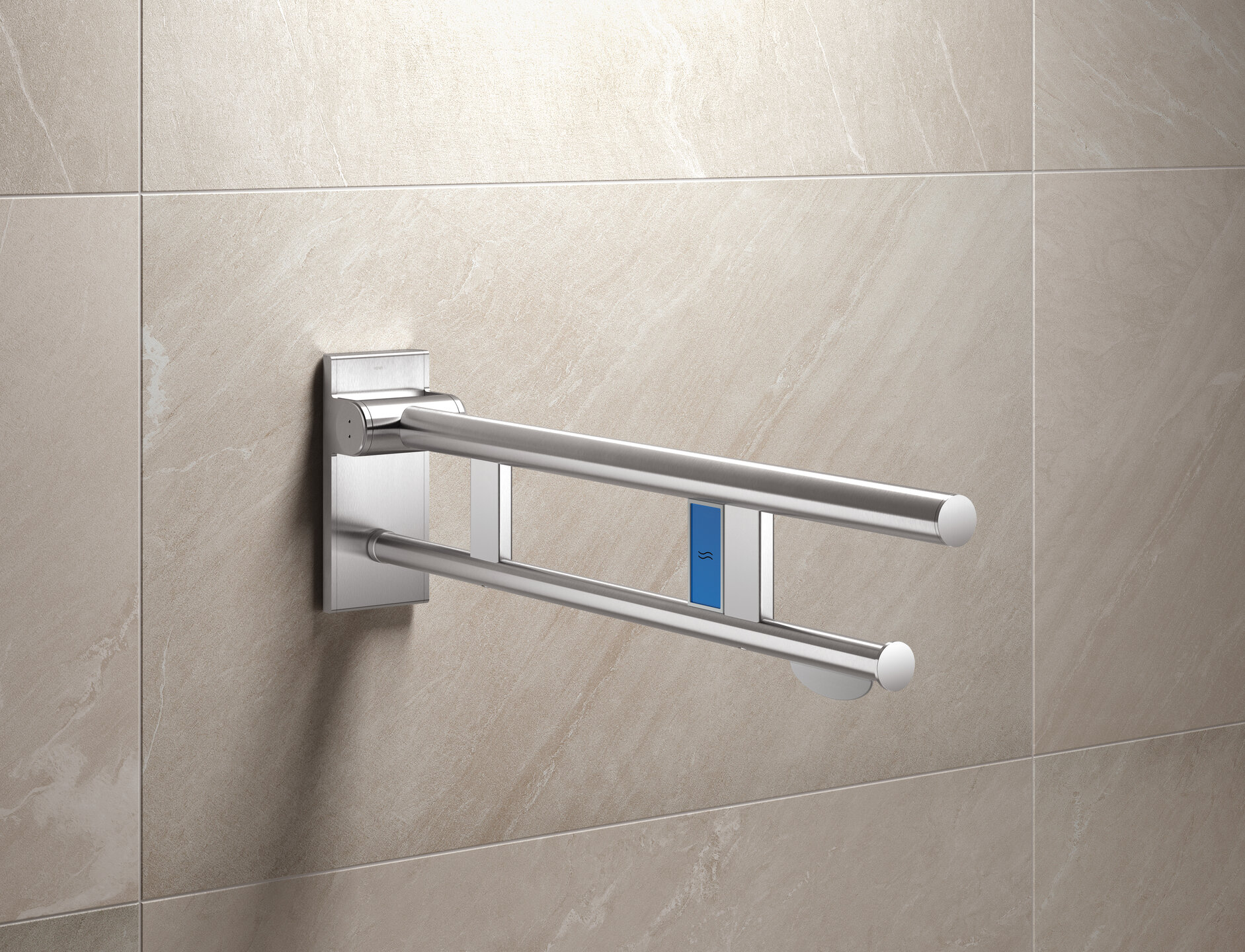 Sophisticated functions
Extreme stability through additional stiffening increases safety.
Sophisticated functions
A small number of components facilitates cleaning and increases hygiene. Ausschließlich hochwertige Materialien werden verwendet.
Sophisticated functions
Integrated functions such as radio flush release are available
Sophisticated functions
Optional sealing tape and concealed fixing.
Sophisticated functions
Secure stop protects the wall. Two design variants are available for this purpose.
Sophisticated functions
Maintenance-free brake dampens the lowering of the folding support handle and minimises the risk of injury.
MOBILE SUPPORT CLIPPING GRIPS
Flexible solution
Mobile hinged support rails offer reliable support and can be used flexibly. If required, the portable support folding handle is simply snapped into the permanently installed mounting plate. If the hinged support handle is not required, it can be removed just as easily and the mounting plate covered by a cover cap.
Hinged support rails 
HEWI hinged support rails are available in high-quality polyamide, as WARM TOUCH version, high-gloss chrome-plated, in easy-care stainless steel or with powder coating.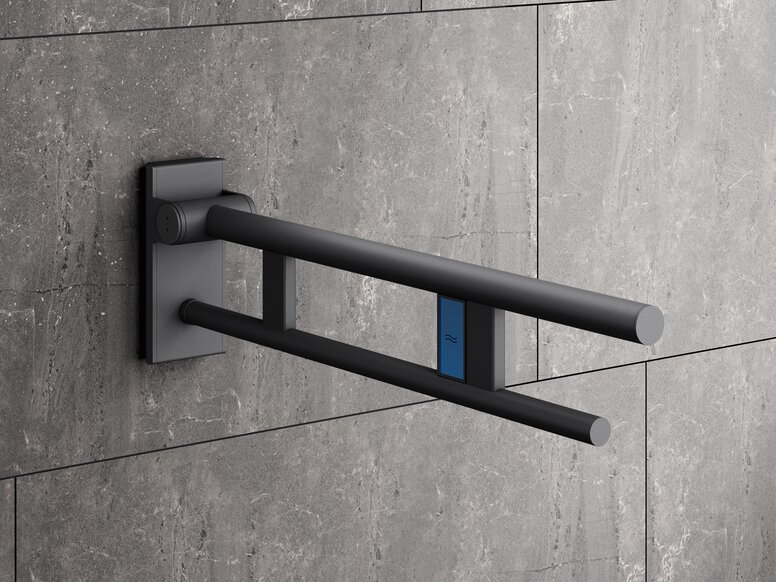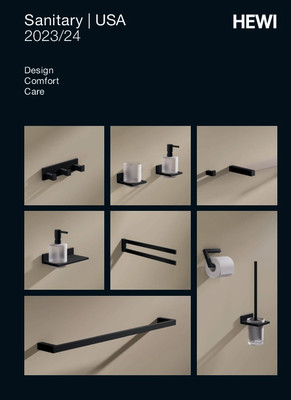 The HEWI catalogue
All product ranges and systems in one assortment
From washbasins and accessories to fittings, hinged support rails and seats
Download PDF
All information about the products
Products, photos, sizes and details
Various design options and colour combinations
Product Catalogue
Design
NOA Product design, Aachen
HEWI, Bad Arolsen
Awards
universal design award: consumer favorite 2014
universal design award 2014
Innovationspreis Altenpflege 2014



THIS Might BE YOUR INTEREST