Sustainability
Our responsibility
Durable products, accessibility, inclusion and timeless design have always been part of HEWI's DNA. We are not only a topic leader in the area of accessibility, we're also a recognised expert in system design. Sustainability and climate care are an integral part of our corporate strategy.
The highest standards of quality and design
Our sustainability vision: Durable, barrier-free sanitary products
Our focus at HEWI is people: with trend-setting architectural and innovative accessible system solutions, our company makes a significant contribution to sustainable building in the areas of accessibility, inclusion, durability and timeless design. This means that as the the topic leader, accessibility enables a better everyday life for everyone - regardless of age or disability. HEWI contrasts the fast-moving, disposable nature of many products by manufacturing durable sanitary products and fittings that meet the highest standards of both quality and design.
Equally, HEWI is also focussed on the well-being of our own employees. We are a responsible employer and our corporate culture is characterised by family cohesion, team orientation, diversity, appreciation and participation. Trust, personal development opportunities, and commitment, shape our daily lives and the work we do.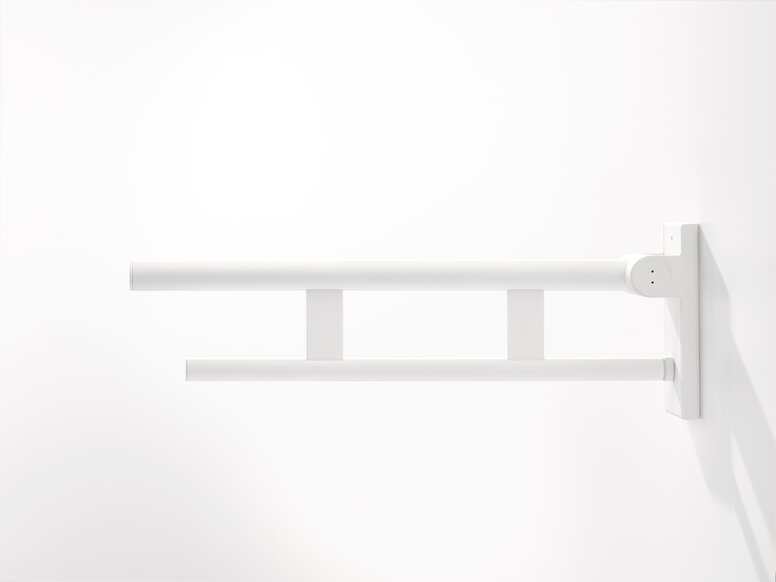 Modern eco-design made from post-industrial recyclate
New Re-seat family from HEWI
How can the waste materials produced during HEWI manufacturing be given a second life? This question gave rise to HEWI's new Re seat family. Consisting of three stools and two bathroom stools, they are made from post-industrial recyclate. One part comes from HEWI's own waste materials, the other is sourced from a regional producer. In the natural colours forest green and dark granite grey, they offer an exciting and lively "look & feel" both visually and haptically.
Thanks to the mix of recycled polypropylene and recycled polyamide, the lightly mottled surfaces with their unique patterns and translucent dots of colour appear vibrant and individual. The use of recycled materials not only reduces plastic waste, but each seat and armrest is also unique.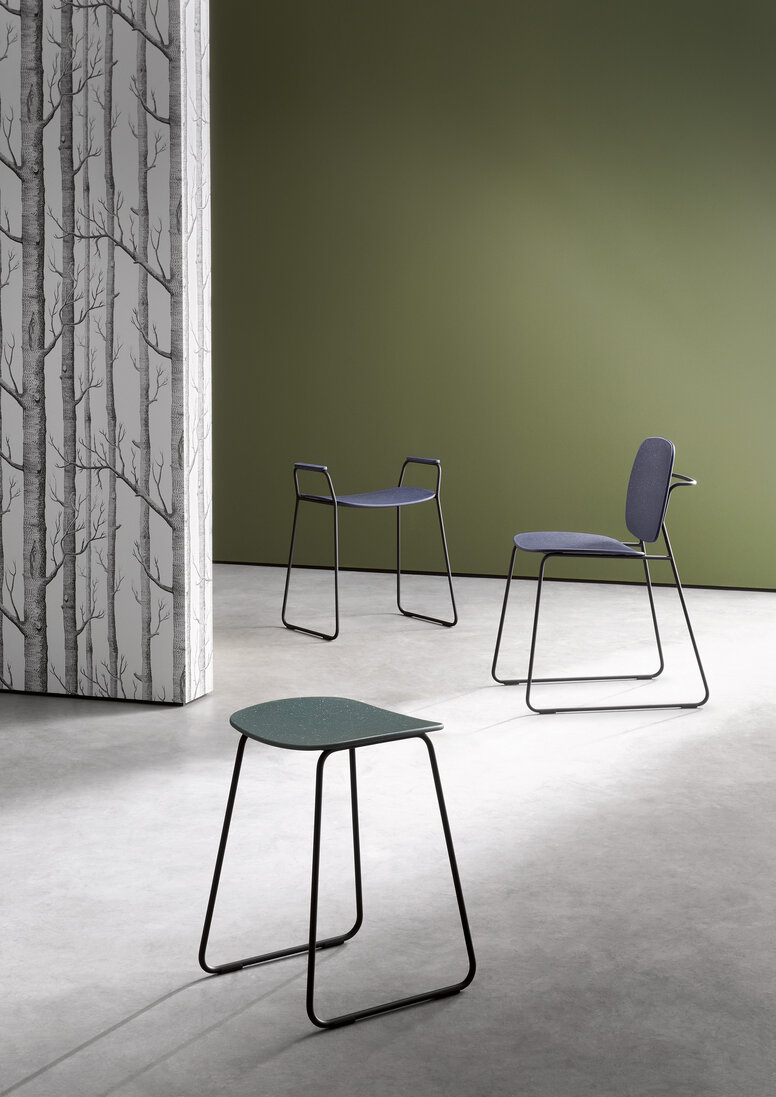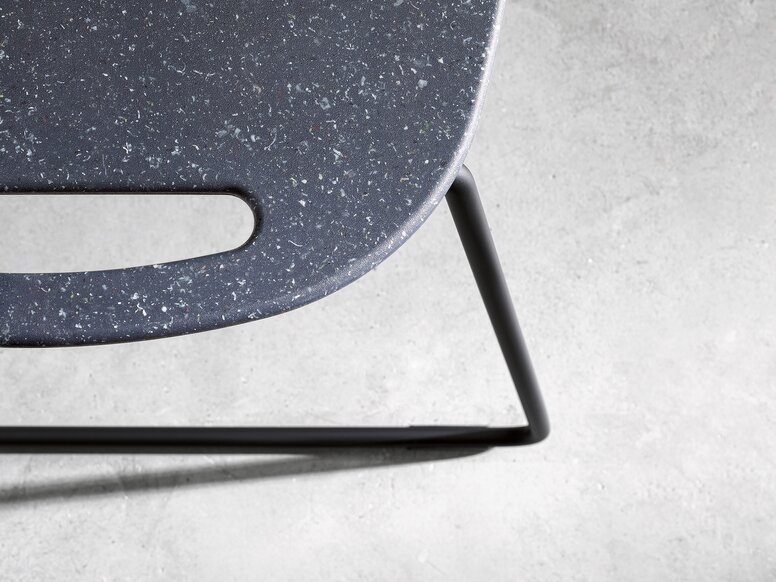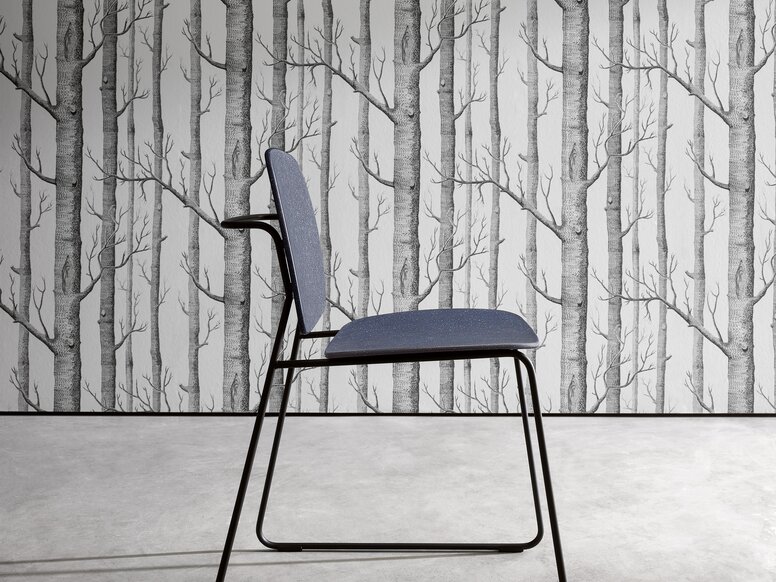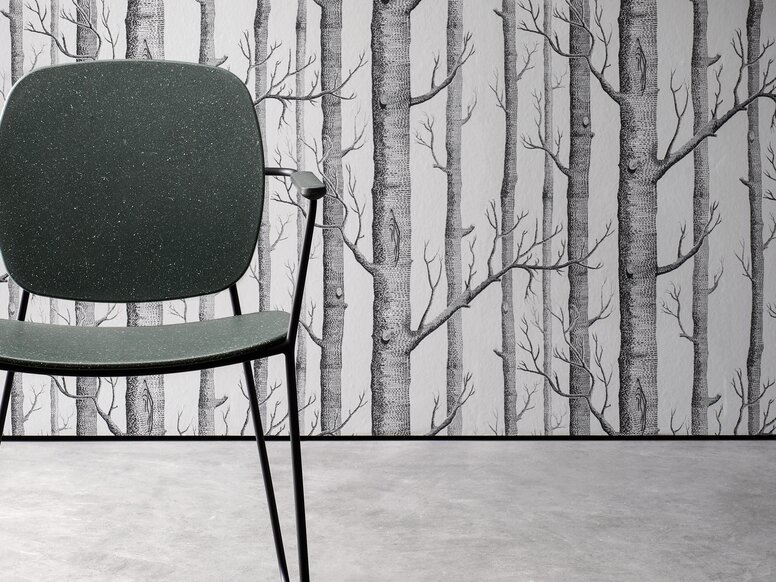 We Care
Our sustainability mission: Focus on the well-being of all
Our objective is for all people to be able to live as self-determined a life as possible and for HEWI products to contribute to their well-being. This is why the company is continuously working on creating accessible sanitary products and equipment concepts. With a comprehensive programme of seminar on universal design and accessible architecture, we provide information and ideas for architects, planners, retailers and tradesmen.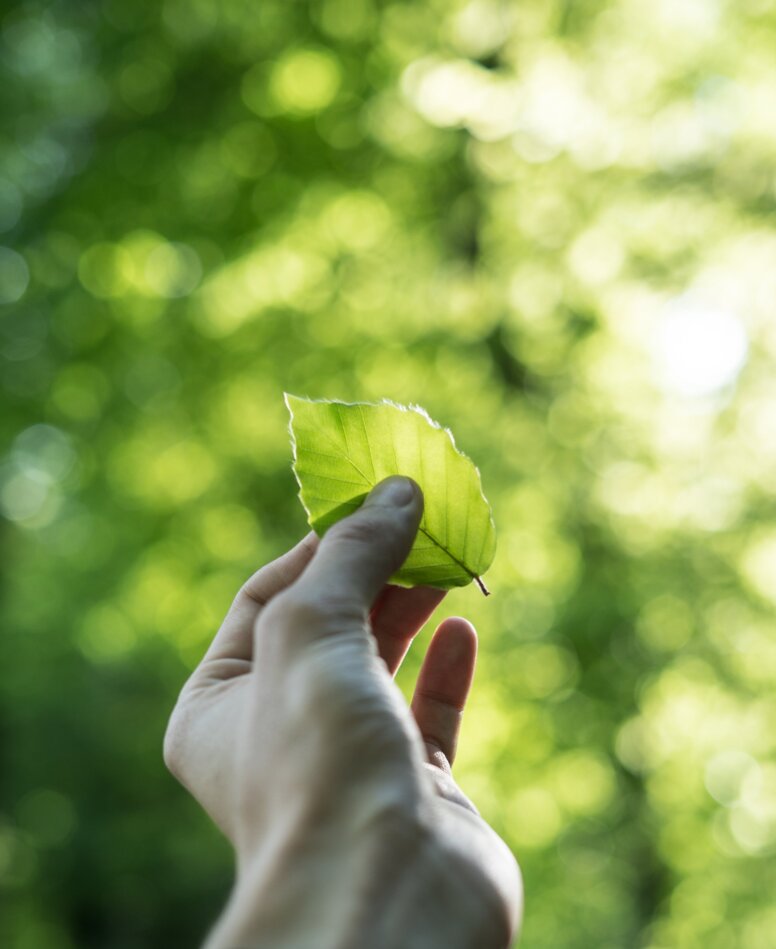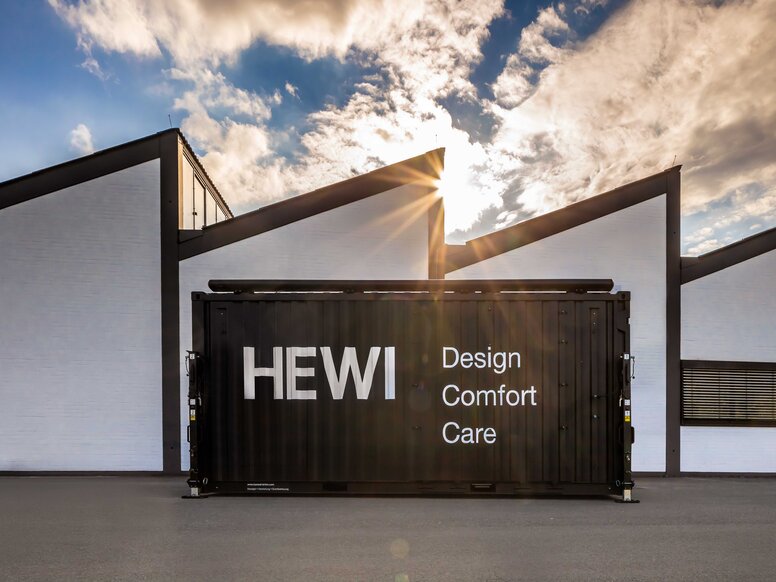 Economy, ecology and social issues
Our sustainability strategy: short-term and long-term goals
HEWI adheres to the principle of the 17 Sustainable Development Goals (SDGs) of the United Nations. Our sustainability strategy is reflected in the following points: "Universal Design & Ecodesign", "Diversity, Inclusion & Cohesion" and "Climate Neutrality & Circular Economy".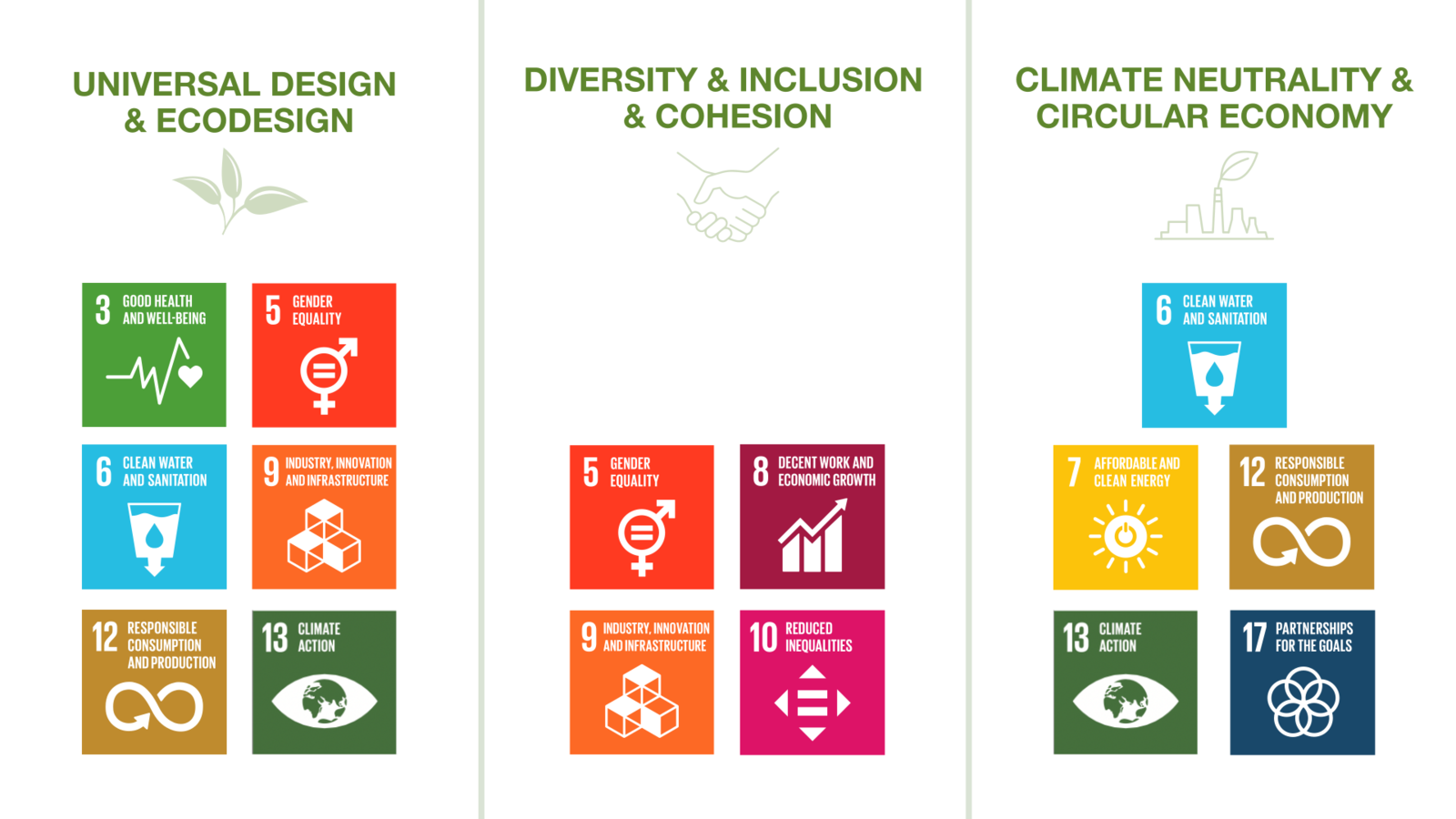 Part of our sustainability strategy is to increase eco- and socio-effectiveness (i.e. more environmental and social compatibility) as well as eco- and socio-efficiency (i.e. better value creation/degradation ratio). HEWI is committed to complying with all legal requirements, to continuous improvement (process management and idea management), to avoiding environmental pollution and to reducing environmental impact.
We believe holistic sustainability management (in line with the triple bottom line) encompasses the three dimensions of economy, ecology and social issues. All three dimensions are of equal importance and are included equally in our decisions and actions.
Proof of concept
Our packaging strategy
In 2021 HEWI developed a sustainable packaging strategy which was adopted in 2022. The guiding principle in the design of new packaging concepts is:
Prevention, reduction and recycling
When developing and implementing sustainable packaging concepts at HEWI, our top priority is
product protection. The design of our packaging is based on our sustainability and climate strategy.
HEWI follows our key principle of reducing and recycling. The prime objective of course, is to
conserve resources and improve the CO2 balance.
To this end HEWI has set itself the following goals:
Use of recycled materials in place of virgin materials for plastic packaging (which is already being implemented).
By 2023 at the latest, HEWI will convert all polythene bags to recycled film
By 2024 at the latest, HEWI aims to cut the use of polystyrene completely
Our goal and guiding principle
Our climate strategy: HEWI complies with the 1.5 degree climate target
As an industrial manufacturer, HEWI is very aware of our particular responsibility regarding the use of both resources and energy. We will continue to apply the potential of plastics in the future and follow the principles of the circular economy. Our climate strategy includes short, medium and long-term climate targets. The company undertakes to reduce energy consumption and greenhouse gas emissions. Furthermore, we aim to be climate neutral within Scopes 1 & 2 at our site by 2030 and to achieve complete Scope 3 net zero emissions by 2045. This strategy means that HEWI complies with the 1.5 degree climate target of the Paris Climate Agreement. Any remaining emissions that arise will be offset, for example, by climate protection projects. Beyond that, HEWI has undertaken to be regularly certified in accordance with DIN EN ISO 50001 and DIN EN ISO 14001.
The goal: HEWI wants to be climate neutral at its site by 2030. And achieve net zero emissions by 2045.
Our guiding principle: prevention before reduction before compensation.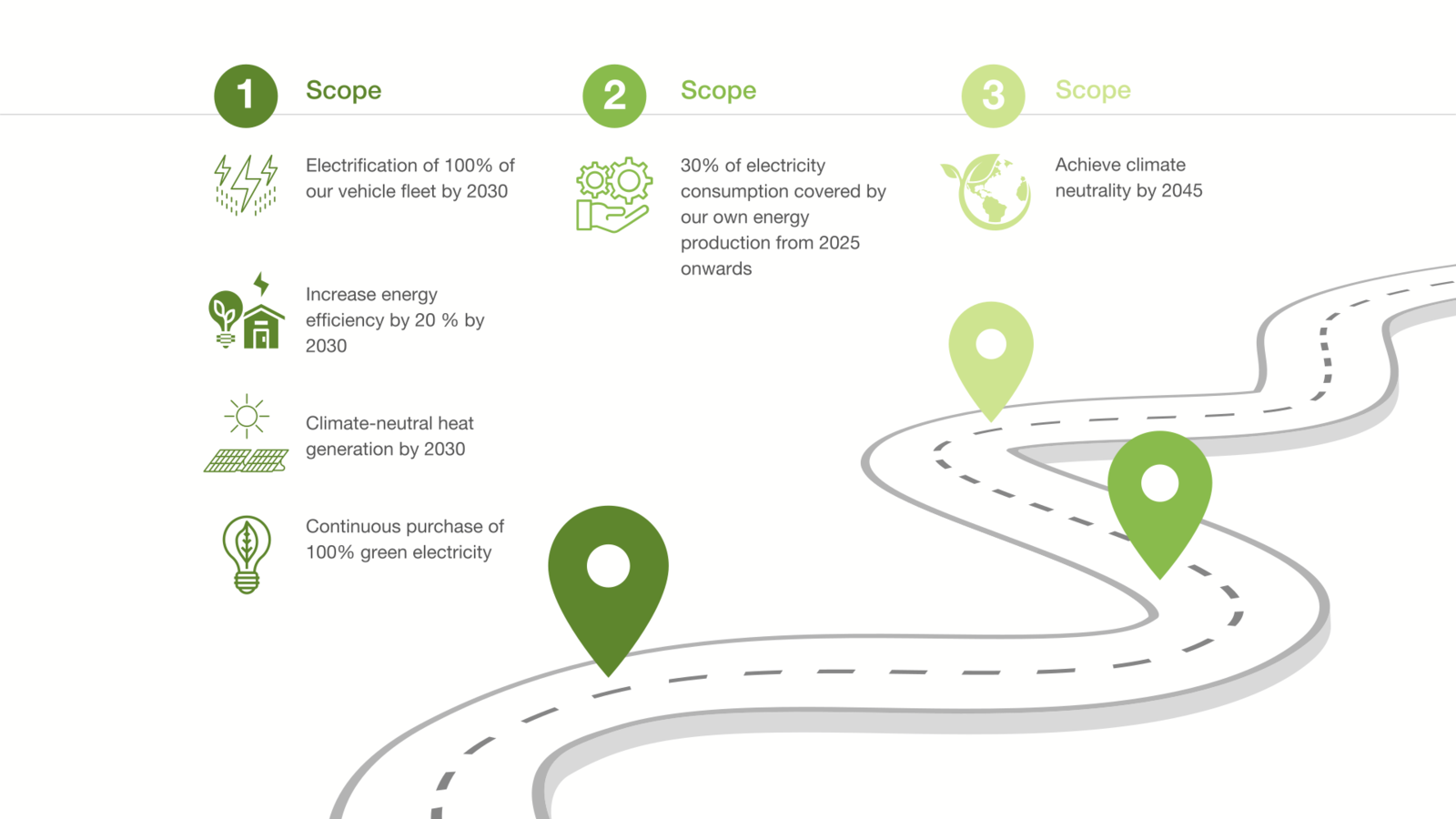 For HEWI, the responsible use of raw materials to help protect our environment is an essential matter of course. Environmental protection and conservation affects all industries and companies today. Here you can find all the certifications the requirements of which HEWI fulfils completely.
Cooperation partners and memberships
Cooperation partnerships, memberships and industry networks are vitally important for HEWI. At our headquarters in Bad Arolsen we not only share our own experiences and ideas, but also welcome ideas and inspiration that can help us develop new solutions.
Since 2021 HEWI has been a member of the ETA-Metropool network, which the Chambers of Industry and Commerce (IHK) from the Rhine-Neckar and Frankfurt-Rhine-Main metropolitan regions have launched.
HEWI is a co-founder and member of the "Climate Neutral Waldeck-Frankenberg" association. The district has set itself the goal of being climate neutral by 2035.
HEWI has also been a member of the VEA climate initiative "Climate-friendly medium-sized businesses" since 2021.
Questions and Answers
What exactly does the 1.5 degree target mean?
The 1.5 degree target (or 1.5 degree limit) is the goal of limiting the man-made global temperature increase caused by the greenhouse effect to 1.5 degrees. This is calculated from the beginning of industrialisation to the year 2100, using the average value from the years 1850 to 1900 from the pre-industrial era. Almost all the world's nations agreed on the 1.5 degree target at the 21st UN Climate Change Conference in 2015. Previously, a 2-degree target had been set, but the 1.5-degree target has many more advantages. These include a smaller increase in average temperatures, heat extremes, droughts and rising sea levels.
What is meant by scope?
In site-related climate neutrality, a distinction is made between the emission areas Scopes 1 and 2. Scope 1 (direct emissions) involves the direct release of climate-damaging gases in one's own company. For example, these can be emissions from the combustion of fuels in furnaces, boilers or vehicles. Scope 2 (indirect emissions) includes the indirect release of climate-damaging gases. For example through energy suppliers (purchase of electricity), steam, heating or cooling.
HEWI has adopted targets and measures to avoid, reduce and compensate for emissions at our sites in Scopes 1 & 2 and has already implemented some of them. Scope 3 includes all indirect emissions that occur along the value chain. A distinction is made here between upstream and downstream emissions:
Upstream emissions comprise the indirect greenhouse gas emissions within the value chain of companies that are related to tangible goods, for example, the purchase of materials, products, and services (intangible goods).

Downstream emissions, on the other hand, are the indirect greenhouse gas emissions within the value chain of companies that arise in connection with its produced products as well as services, like transportation, after they have left the ownership or control of the company.
What does Triple Bottom Line mean?
Triple Bottom Line (TBL) is an approach that describes how sustainability is about how to balance economic, environmental and social performance. John Elkington was instrumental in shaping the concept. Only those who manage to achieve a balance between all three points are truly sustainable. It is a matter of introducing key figures based on the TBL concept, which enables the performance of all three criteria to be recorded.
What does achieving net zero emissions mean?
Net zero emissions means that as much CO2 is removed from the atmosphere as is produced. Despite sustainable technologies developed and implemented in recent years, carbon emissions continue to rise. Unfortunately, current climate change commitments are not yet sufficient to meet the 1.5 degree target. Net Zero seeks to raise the standard of carbon neutrality. This means that companies must set a minimum CO2 reduction target. They should also progressively develop climate protection projects that offset or even remove CO2 emissions (carbon removal).