HEWI / Knowledge
Barrier-free restrooms for pre-K to secondary schools
The learning environment for Pre-K through secondary school students is rapidly evolving and creating developmental opportunities across instructional and break-out spaces, including a focus and sensitivity toward correctly sizing barrier-free restrooms for various aged students.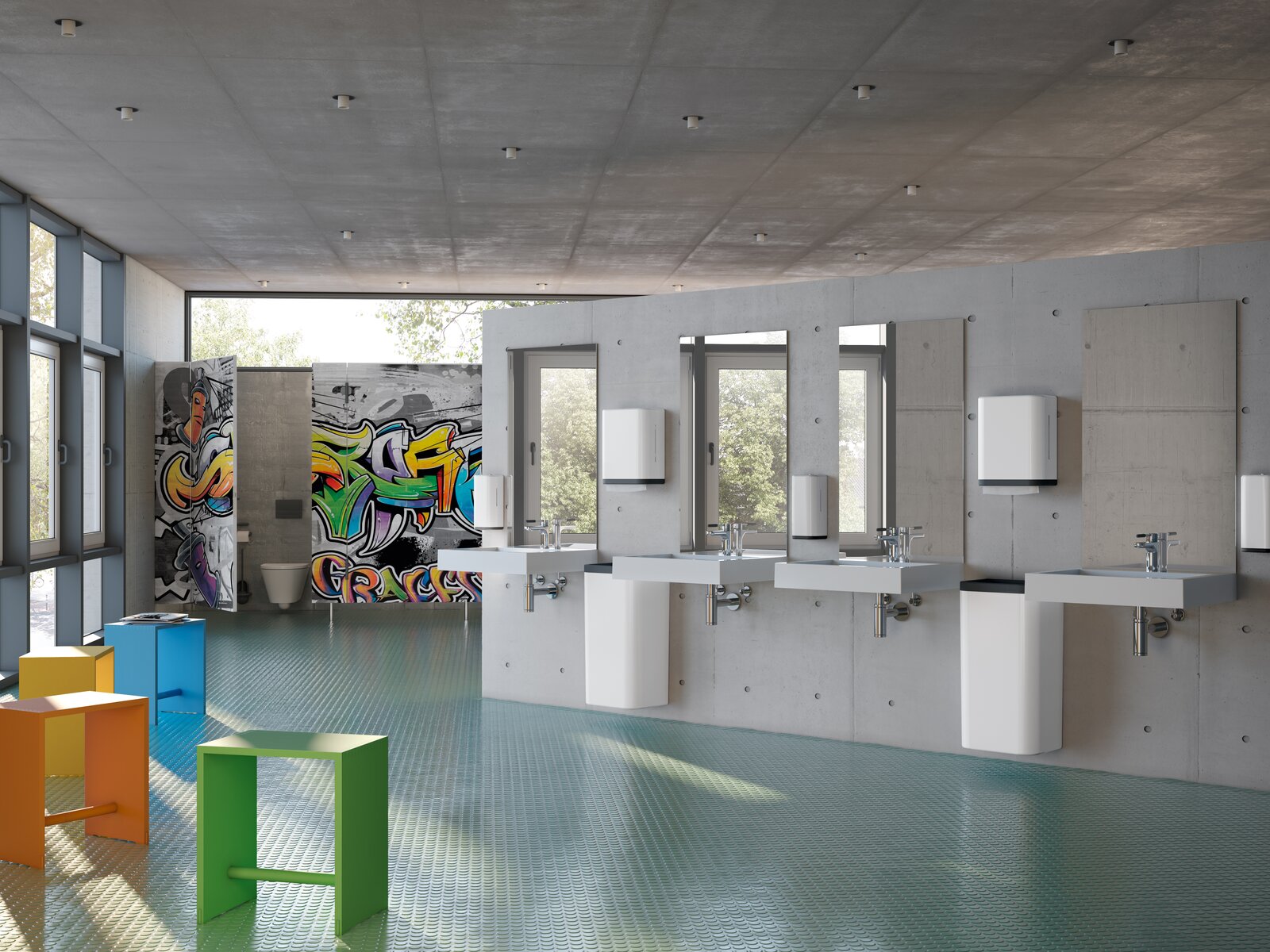 Change, albeit never easy, is a worthy goal of any school seeking to promote environments that are engaging and not static. Collaboration between architectural firms and schools render designs that offer enriched learning experiences during a child's early developmental stages, through a variety of instructional teaching models.
A rise in learning studios, common space areas and break-out portals are stimulating unique and invigorating experiences to excite and challenge young minds and behaviors. Recognizing how important the beginning steps of socialization, inclusion and independence are for a young child is vital as they pivot to gain independence and build confidence in the early phases of human development.
In honing our discussion of barrier-free restrooms, the American with Disabilities Act (ADA) celebrated its 20th anniversary in 2020, as a civil rights law that prohibits discrimination against individuals with disabilities to ensure that everyone has the same rights and opportunities in places of public accommodation, including students in educational facilities.
The general public have come to expect larger, barrier-free toilet rooms that have specific features for accessibility including the mounting heights of plumbing fixtures and accessories such as grab bars, in addition to clearances to open and close the door. In comparison, we have seen in healthcare design an increase in the use of the term "person (or patient) of size," where additional space may be required to accommodate a person due to singular or multiple factors, including weight and height.
Providing an inclusive experience for students who require accessible design as part of their learning environment is not only a code requirement, which will vary dependent upon a project location, but a key element of consideration when programming and planning education projects with specific attention to the lower grade levels.
"Understanding the uniqueness of students' challenges as they navigate their daily routine and providing barrier-free access to something many may take for granted, allows the students to maintain their independence and dignity."
– Kristen Furtak and Kathy Bell
Child height requirements compared to adult requirements provide appropriate heights and locations of toilets and their associated accessories using grade clusters, such as Pre-K, Grades K-3 and Grades 4-5. They have been developed to be suitable to the age range and projected needs of the student. Pre-K and Kindergarten classrooms may typically include a private accessible restroom within their instructional space, allowing them an opportunity to be independent, while still being supervised by Teacher or Aide.
The upper grade levels in an elementary school, may use a multi-stalled restroom that includes an accessible toilet stall and is shared within a classroom wing on the floor. Providing "grade" appropriate access is empowering to the younger students and not something that they will likely experience in a non-educational environment, except perhaps in a pediatric friendly healthcare facility.
Beyond the primary grade levels, secondary schools from Grades 6-12 will utilize standard adult height requirements for accessible restrooms, paralleling what students with disabilities will experience outside of their educational environment.
Multi-stall restrooms will be a common denominator with the potential addition of showers at gym locations, which require attention to not only creating a barrier-free environment but a safe one, as well. At all grade levels, a nurse's suite or special needs classroom that includes a selfcontained restroom needs to be sized to provide ample space to accommodate either a child changing table (primary grades) or adult changing table (secondary grades) and an Aide assisting the student.
Additional considerations for restrooms may include high schools that are seeking program space for Activities of Daily Living, which include simulating an independent living environment. Understanding the uniqueness of students' challenges as they navigate their daily routine and providing barrier-free access to something many may take for granted, allows the students to maintain their independence and dignity.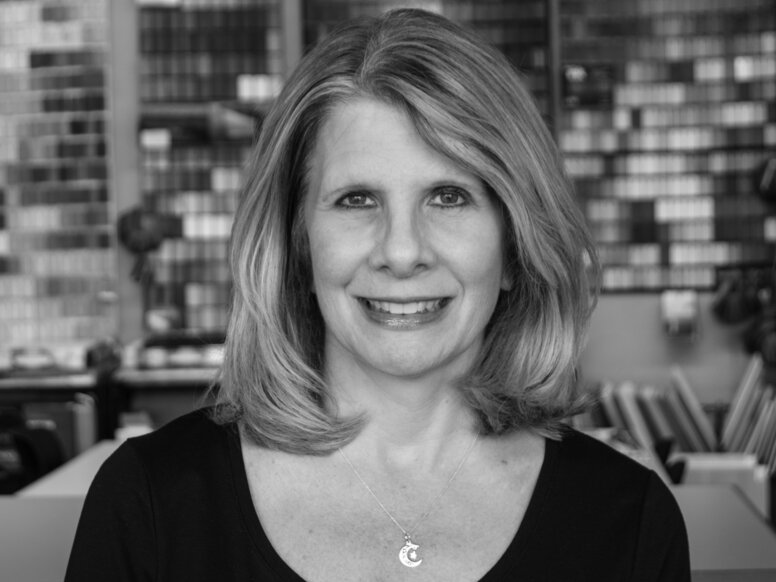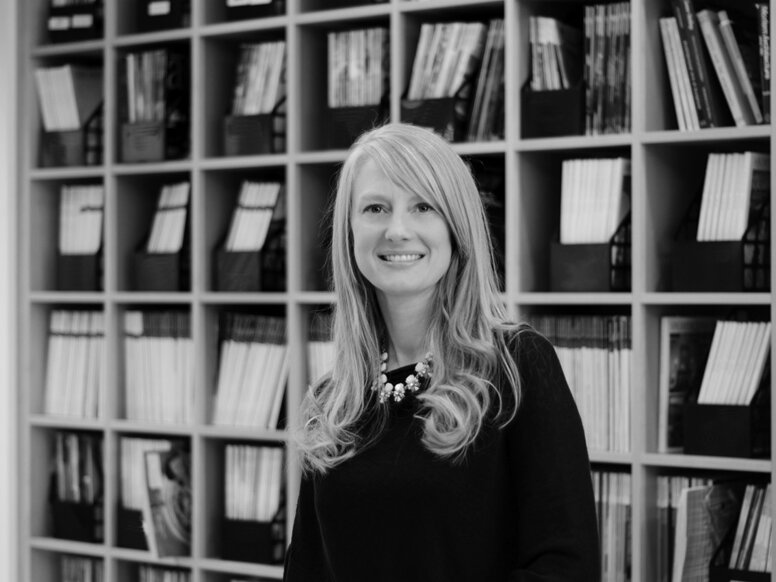 Kathy Bell, AIA, ACHA, is a Senior Associate and Research/Educational Coordinator at SLAM. Her expertise is in healthcare design specializing in master planning, programming, and planning for hospitals and outpatient facilities.
Kristen Furtak is a Senior Associate at SLAM. She is a programmer/planner for SLAM's education markets. Her expertise is in early stages of design and programming spaces from classrooms to residential halls.
SLAM (The S/L/A/M Collaborative) is a national, multidisciplinary design firm offering architecture, planning, interior design, landscape architecture, site planning, structural and civil engineering, and pre-construction services. Their market focus is on K-12 public/private education, higher education, healthcare, corporate, justice, sports and recreation sectors. SLAM has offices in Atlanta, GA, Boston, MA, Denver, CO, Glastonbury, CT, Iowa City, IA, Los Angeles, CA, New York, NY, Orlando, FL, Philadelphia, PA, and Providence, RI. For more information on SLAM please visit www.slamcoll.com
Download now for free
Get new perspectives on universal design, be inspired by architectural solutions, and discover how creatively accessibility can be designed!
Download your personal issue as a PDF for free.