HEWI MAG / building fittings
Fittings in buildings: Five tips for planning
Interior design is an essential building block of architecture. A well thought-out furnishing concept is essential for the planning of public buildings. In this article, we will provide you with useful tips to help you choose hardware for public areas.
It is probably one of the smallest design elements of architecture: door hardware. But with it, you can express a stylistic attitude. For an expressive overall image in public areas, we offer lever handle solutions. These combine high-quality design and maximum functionality. After all, aesthetics and function have long been two inseparable components when it comes to furnishing of public buildings. The following tips will help you: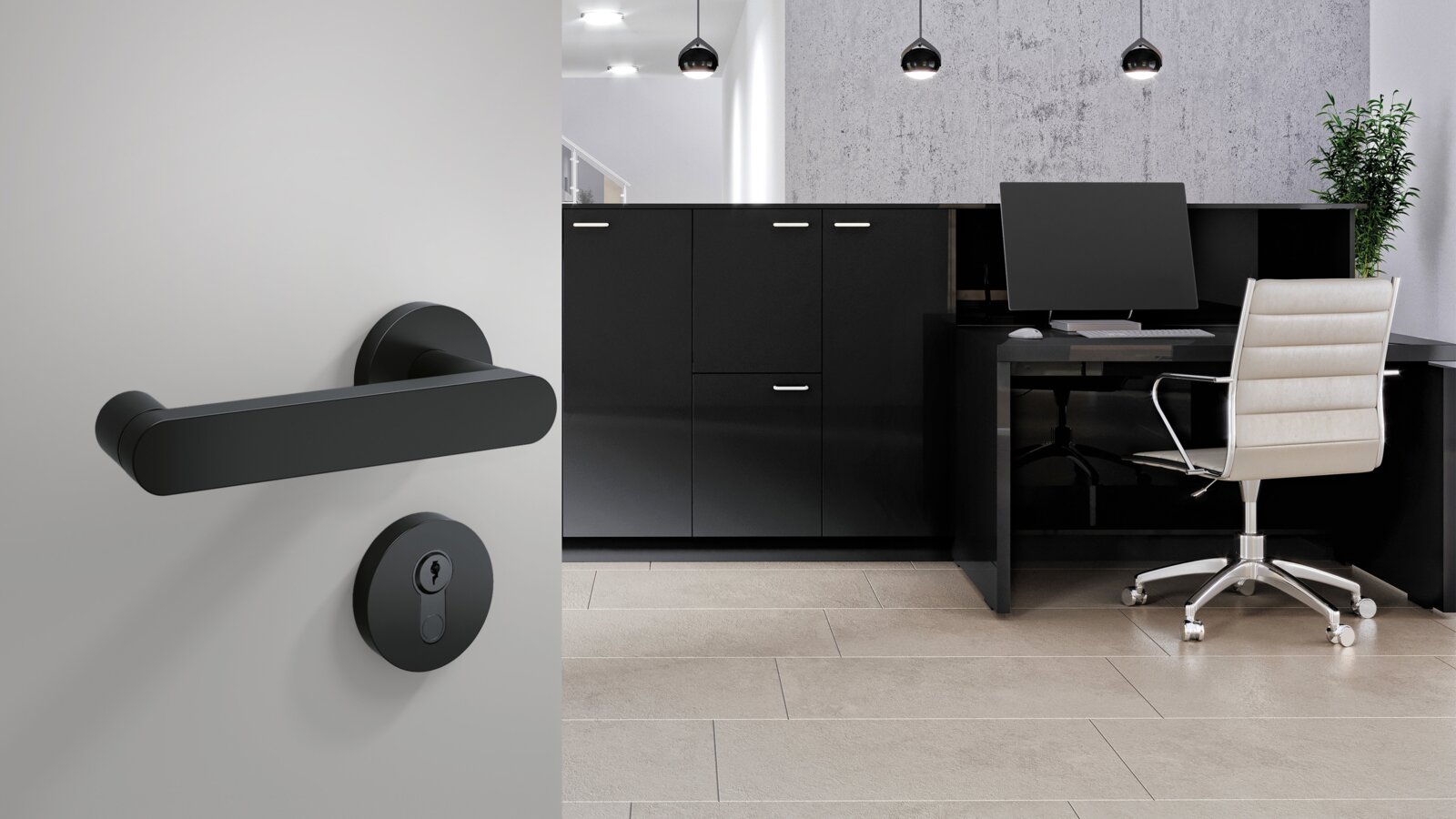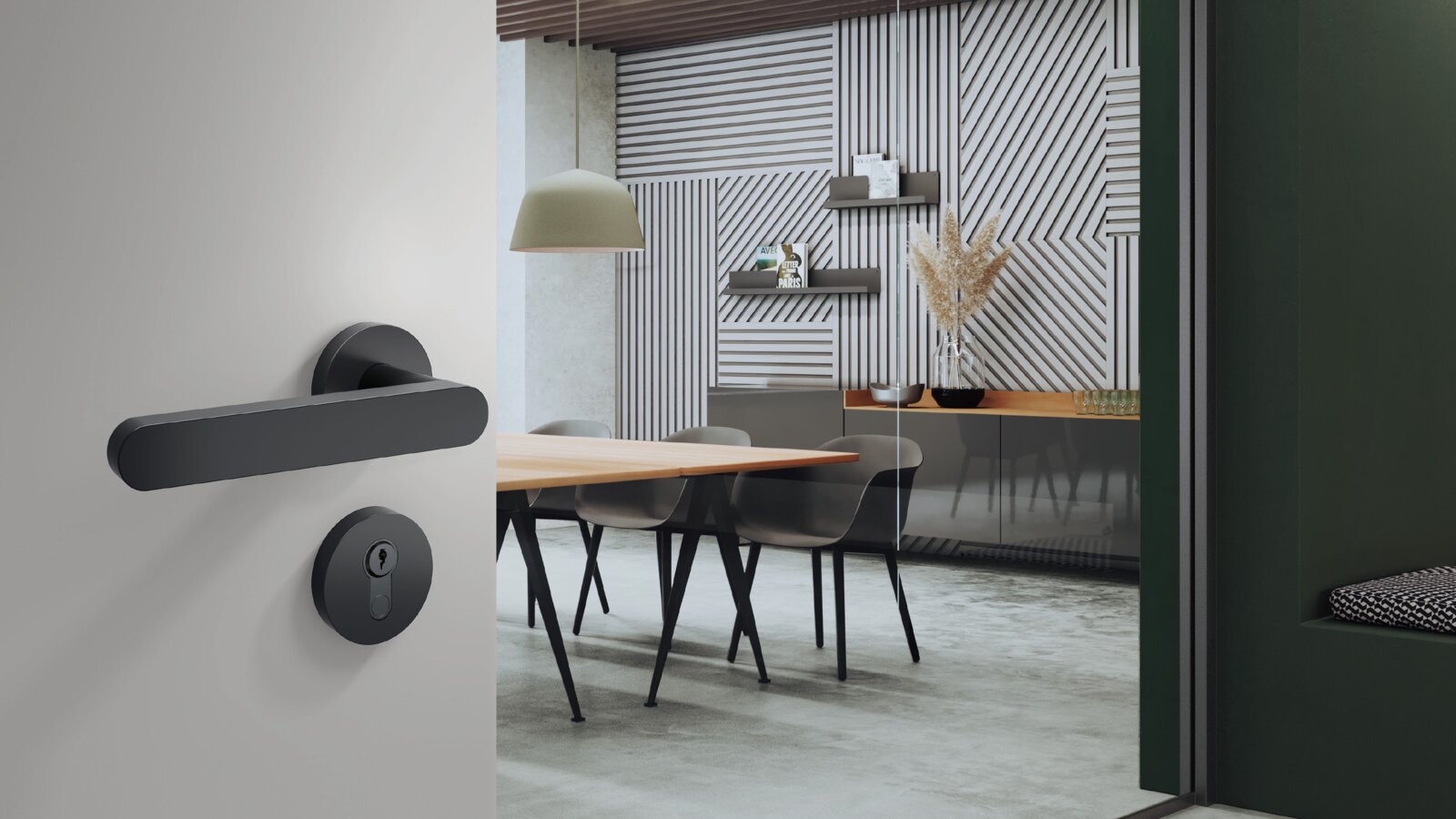 1st tip: Create recognition
A room in a public building should leave a lasting impression. In order to achieve this, innovative and unique equipment solutions are needed. Fittings that combine functionality and aesthetics can help. The extensive range of objects in the 270 series is characterized by its modern and minimalistic design. With the finish in satin stainless steel and the special edition black satin, the lever handles will leave a lasting impression
2nd tip: Strive for uniformity
In order to implement an aesthetic interior concept, uniformity is key. When too many different styles are combined, this creates disharmony and a negative overall impression. Hardware solutions in public areas should allow for a consistent and uniform design. The window handles of the 270 series complete the handle range and enable a consistent design – from the doors to the windows. They fit perfectly into public spaces and look particularly harmonious in combination with lever handles of the 270 series.
3rd tip: GIVE YOUR PROJECTS THAT CERTAIN SOMETHING
There is no question that aesthetics is becoming increasingly important in our society. It is therefore important for you as planners and architects to focus your attention on a particularly descriptive project design. In public areas in particular, well thought-out furnishing concepts act as a calling card. The choice of hardware therefore plays a considerable role – because visitors get their first impression of a room from the door handles even before they enter it. Add prestigious character to your projects with our unique mini and bicolor product solutions of the 270 series.
Mini redefines the term minimalism. The greatly reduced escutcheon emphasizes the clear geometry of the 270 series lever handle and puts it in a new light. The innovative mounting concept allows the escutcheon to be reduced to a minimum – it has a diameter of just 32 mm and an overall height of only 3 mm.
With the bicolor version, HEWI offers a unique fitting that facilitates the individual design of a room. Consisting of two materials, bicolor allows for an unusual mix: A flat stainless steel escutcheon meets a colored polyamide inlay.
4th tip: Consider building safety
When planning and equipping public buildings, the safety of people is a particularly important aspect. Especially in dangerous situations, escape routes must be found intuitively and escape doors must be easy to open. Install framed door fittings and fire protection fittings that allow everyone to quickly exit building in dangerous situations.
Thanks to the extended variety of our series 270 lever handles, the requirements of to DIN EN 1906 and DIN 18255 can be fulfilled. The fittings for fire doors (DIN 18273) and escape routes according to DIN EN 179 complete the range. The framed door fittings also comply with the applicable guidelines of German Social Accident Insurance. All models feature proven technology and are designed for frequent use in medium- to high-traffic buildings.
5th tip: Open the space for colors
Color is one of the current trends in interior design. For some time now, it has become a popular element in interior design concepts. With deliberately selected colors, you can create a room image that has a high recognition value and leaves a lasting impression. In addition, colors stimulate the emotions and give rooms a feel-good character that appeals to the senses.
With the extended color variety of the 270 mini series, HEWI offers the ideal solution for color-rich room concepts. In combination with other colored elements, you can create a harmonious interior design. As a sole splash of color, the 270 mini lever handle is an eye-catcher that adds that certain something. Whether in the trend colors of the year – purple, emerald green, dove gray, and pink – or in the personal color of your choice, the color palette knows no bounds. You can choose from over 4,500 possible colors. Your door handle is thus sure to match your project.
Design and aesthetics are inseparable
Buildings in the public sector receive a lot of traffic. Buildings that are open to the general public are subject not only to strict regulations but also the critical gaze of visitors. A harmonious, innovative, and well thought-out interior design creates a positive overall impression.
In our newsletter, we inform you regularly about the current trends in the building hardware industry. Register now for free, and stay up to date.