HEWI MAG / Sanitary
Accessible faucets for sinks and showers: Comfort and safety in the bathroom
There is one thing that should not be missing in an accessible bathroom: accessible faucets. Whether at the sink or in the shower, accessible faucets make a major contribution to an inclusive bathroom. However, there are a number of things to consider when selecting the right product solutions. In this article, we present you different accessible faucets for sinks and showers.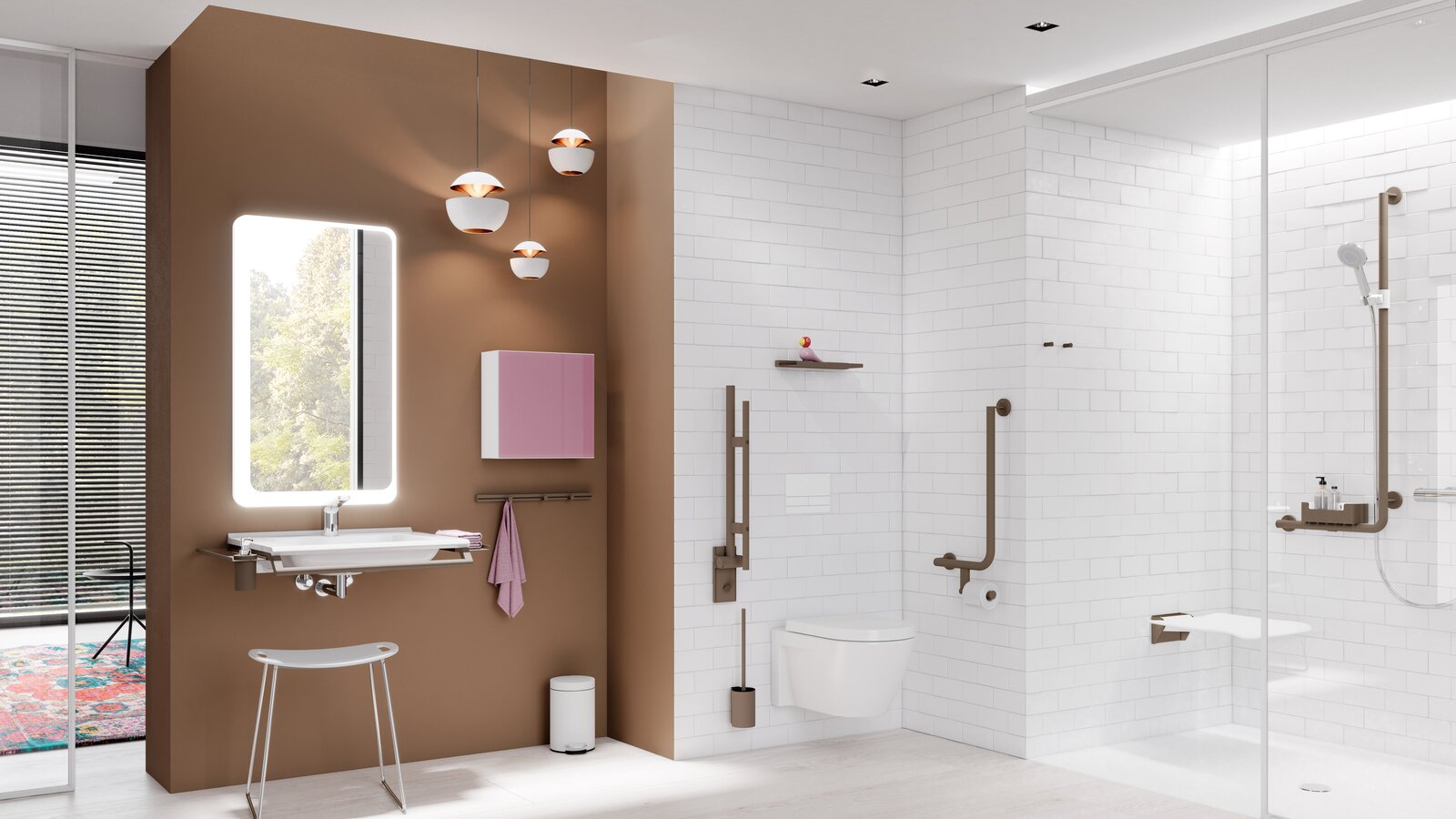 Accessible faucet: What features are important?
The most important thing first: In the context of sinks and showers, faucets are considered accessible if they are designed in such a way that they can be easily operated and reached by all people, regardless of their physical abilities. For example, accessible faucets have controls that people can easily recognize, grasp, and use. It should be possible to operate accessible solutions with little effort. The tactile recognizability of the operating elements also plays just as important a role in accessible faucets as their ergonomics.
WHAT ADVANTAGE DO ACCESSIBLE FAUCETS OFFER?
Accessible faucets benefit people with physical impairments in particular. Suitable products contribute to a self-determined and independent life. However, accessible faucets offer advantages not only for people with limited mobility. Thanks to their ease of use and intuitive application, they provide comfort to all users and increase user-friendliness.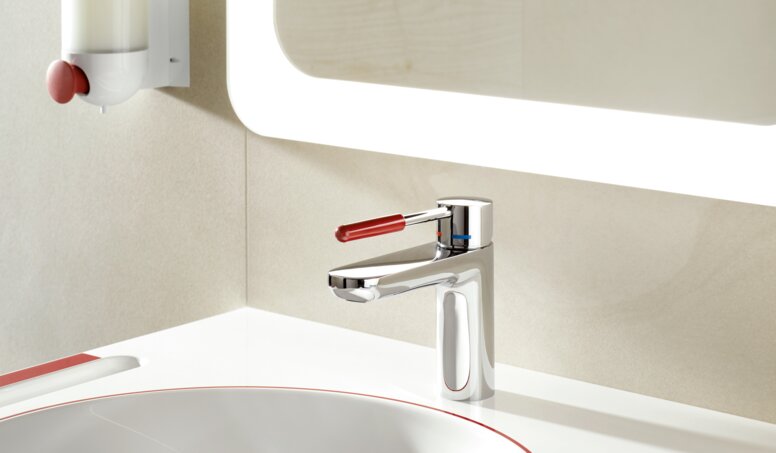 Accessible faucets at the sink
Because faucets are considered accessible when they are easy to use by all people, below we present several models of accessible faucets:
Sensor-controlled faucets: These faucets trigger the water flow by a hand movement and stop it automatically after a pre-set time interval. This simplifies handling and gives people with physical impairments the chance to shape their everyday lives in a self-determined way. Sensor-controlled variants also offer advantages in terms of hygiene. By not touching the faucets, pathogens transfer less easily, and infections are reduced. Another advantage of electronic faucets far from accessibility is that they actively conserve the scarce resource of water.

Single-lever sink mixer: Single-lever faucets feature intuitive and easy handling. Thanks to the hot-cold marking, the use and temperature setting is quite simple. With the color-highlighted control element of the single-lever sink mixer in the familiar HEWI colors, the area of use is visualized and made tactile. The handle element is made of high-quality polyamide and is pleasant to grip. Thanks to the variety of colors, this model in the color red is suitable for dementia patients.

Accessible faucets with extended operating lever: Faucets that have and extended operating lever noticeably simplify the use. This is particularly beneficial for wheelchair users who need to reach the faucets from a seated position. HEWI models are equipped with a colored polyamide control element that promotes intuitive use, enables easy handling, can be operated with little effort, and can be grasped tactilely.
How to install the accessible sink faucet
In general, accessible faucets should be installed so that they are easily accessible to everyone, regardless of physical ability. In this case, it may be advisable to install the faucet slightly lower than usual. This ensures that wheelchair users or seated persons with limited strength can easily reach the faucet. At this point, attention should also be paid to the under-ride capability of the accessible sinks in order to facilitate access for wheelchair users.
Accessible shower faucets for a comfortable shower experience
Compared with accessible sink faucets, accessible shower faucets have different requirements. It makes sense to use a shower faucet that is handicapped accessible. It is important to install a thermostatic faucet that has precise temperature control and scald protection. Our accessible shower faucet in the SAFE TOUCH variant has both a hot water lock and a device that cools the faucet body so that it does not get too hot. In addition to safety, user-friendliness is of course particulary important when it comes to accessible shower faucets. Large, easy-to-see controls with clear hot/cold marking are ideal. In this article you will learn how to equip the shower of your customers with the highest degree of comfort and accessibility.
Accessible faucets: Functional and aesthetic
That accessible faucets should be as functional as possible is beyond question. But these days, the design of the solutions is just as important. Fortunately, accessibility has long since ceased to mean that users have to sacrifice when it comes to aesthetics. Our accessible faucets for sinks and showers are available in different surfaces and colors. In this way, they offer design options and you, as the planner, do not have to compromise. With our models in black matt finish, the faucets become a modern and contemporary design element in an accessible bathroom.
Accessible faucets: Comfort for all
accessible faucets at the sink and in the shower offer physically impaired people the opportunity to lead a self-determined life. But they also offer various advantages for vital people. From safety and convenience to ease of use and a straightforward user experience, accessible faucets have many positive attributes. This is particularly useful in times of demographic change and the continuing rise in popularity of multi-generational bathrooms.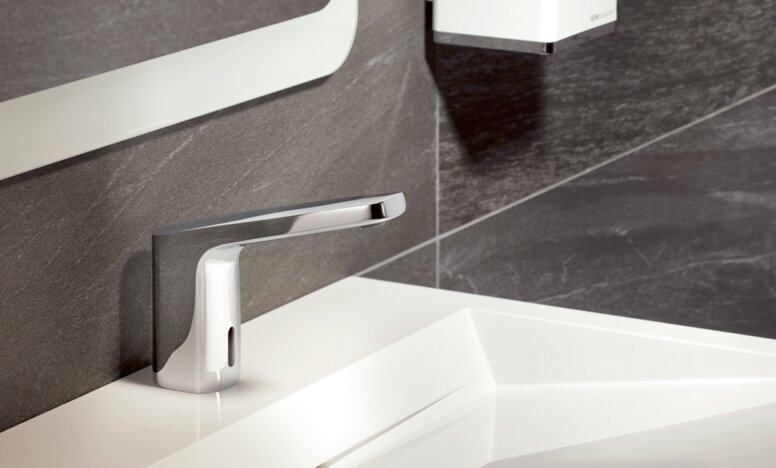 Every month, our HEWI newsletter informs you about interesting topics and innovations from the areas of building hardware and sanitary areas. Please register free of charge and without obligation.