HEWI MAG / NEWS
Bathroom Trend: Here's what a modern bathroom looks like in 2024
Discover the groundbreaking bathroom trends for 2024 and let these innovative, accessible sanitary solutions ignite your inspiration. From sustainable materials to versatile color palettes, learn how to incorporate contemporary designs into your projects:
Sustainable bathroom: The bathroom trend in 2024
In 2024, the focus of the current bathroom trend is the sustainable bathroom. Sustainability refers not only to conserving water, but also to the use of environmentally friendly materials. Recycled glass, bamboo, and reusable wood are excellent options. Likewise, high-quality plastics offer a durable and low-maintenance alternative. HEWI uses recycled plastic in the new Re-seat family, which consists of a blend of recycled polypropylene and recycled polyamide. As a result, HEWI reduces plastic waste and creates unique, vibrant surfaces.
The bathroom trend color in 2024: A focus on stylish color nuances
In the coming year, we will experience an exciting variety of colors that will significantly shape the current bathroom trend. A combination of:
calming pastel nuances
earthy tones
vibrant color accents
This palette offers a wealth of possibilities to create a relaxed atmosphere and make the bathroom a real place of comfort.
Whether it's hip trend colors or the personal favorite colors of your customers - the accessible HEWI System 900 offers the right nuance for any furnishing concept with over 4,500 colors. With this variety, unique color concepts can be realized, which give the bathroom an individual touch. True to the motto: Make Your Own Choice – Choose Your Own Color.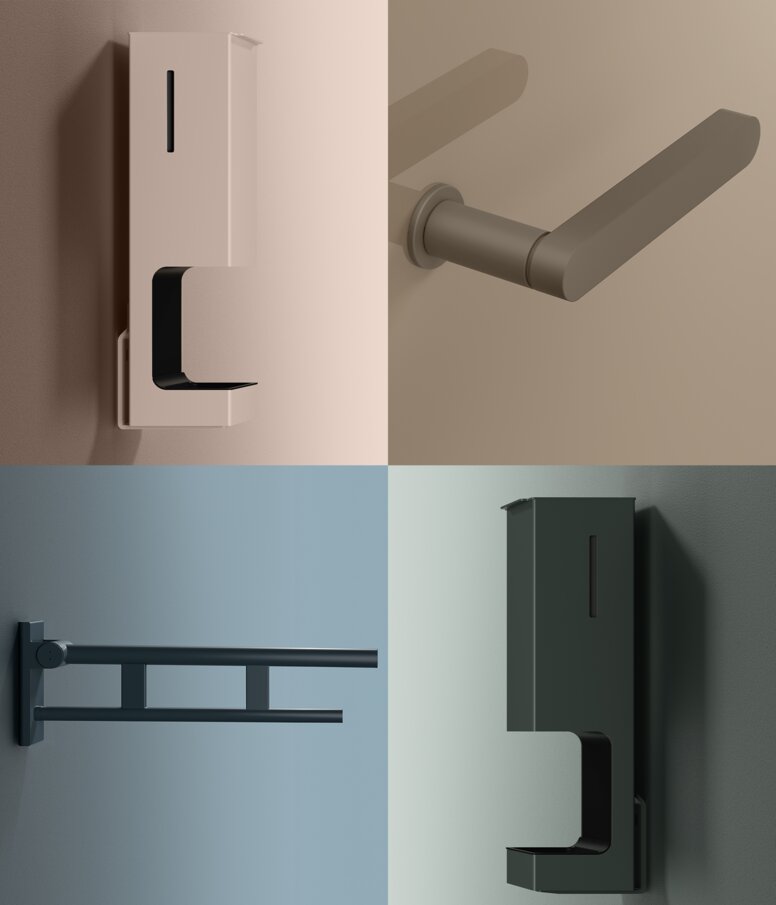 Personal care aids: Convenience and functionality in the bathroom trend
In the current bathroom trend, aids for personal care, such as shower seats or folding support handles play a decisive role. They provide not only convenience, but also functionality. Mobile aids make it possible to arrange the bathroom in such a way that it meets the individual needs of the user. These products ensure the same functionality as permanently installed aids and are just as resilient. However, they can be wall-mounted to save space.
In the HEWI System 900 you will find, for example, a mobile folding support handle in mono and duo design. The simple tool-free assembly makes it possible to mount the aids as needed and remove them again as required. This aspect makes the accessible bathroom flexible and adaptable.
Modern bathroom furnishings: Geometric shapes are in trend
Geometric shapes, especially the square, are a defining element in the bathroom trend for 2024, crafting a crisp and modern aesthetic. These design principles create a contemporary aesthetic that gives the space a clear structure. The use of linear and purist bathroom furnishings significantly supports the organization and tidiness in the bathroom.
The thoughtful designs also ensure convenient use. Accessories such as towel holders or soap dispensers of the design variant S 900 Q are visually appealing and practical.
You can find more information about what influence the shape design of products has on bathrooms in this article: Shape design in bathroom planning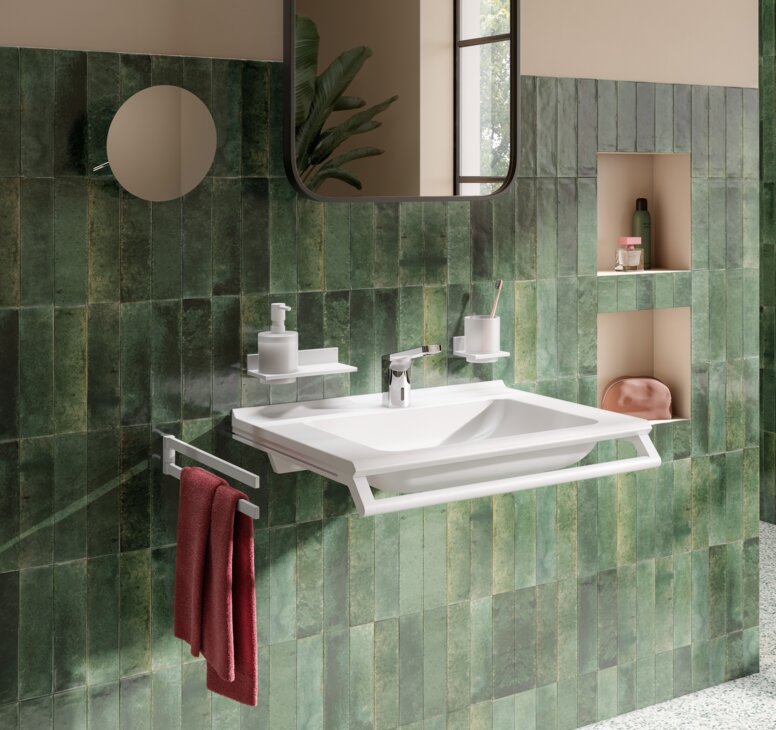 Universal Design: The needs of users in the accessible bathroom
Accessible bathrooms, in the sense of universal design, are designed for people with various physical or cognitive disabilities. An accessible bathroom should be convenient for everyone to use. Therefore, it is beneficial if it has handholds, shower seats, height-adjustable toilets, accessible vanities, sufficient storage, folding support handles as well as mobile seating and useful accessories.
Modern accessible bathroom design
In 2024, bathroom trends are all about sustainability, a variety of colors, convenient aids, and modern designs. Integrating these trends allows for accessible bathrooms that are both functional and aesthetically pleasing. After all, making a bathroom accessible doesn't mean you have to forgo trendy designs.
Never miss a trend - sign up for the newsletter now
Stay informed about innovative sanitary solutions and don't miss out on the new trends. Subscribe to our free newsletter now and step into a future brimming with modern, accessible bathroom designs.