HEWI MAG / NEWS
Architecture meets accessibility:
5 examples for different areas of application
Whether in hotels, public buildings, care and children's facilities or in private households: accessible sanitary solutions are needed in every area. But not every solution fits every context. We introduce you to precisely fitting sanitary systems for different types of property
Challenge barrier-free bathrooms
The proportion of people in society who are dependent on support, whether through old age or physical impairment, is increasing. This requires custom-fit and high-quality solutions for accessible bathrooms. Depending on the context, the focus shifts. Target group-specific offers are important: We present you with custom-fit sanitary systems for different types of properties.
Robustness is the keyword for solutions in office buildings. This is about daily use by different users. In hospitals and nursing homes, the focus is on the aspect of hygiene. It must be ensured that all areas can be cleaned quickly and effectively. Easy accessibility and well thought-out solutions ensure well-being and are aesthetically convincing.
When we talk about hotels, the focus is on design and appearance. Those who travel with a wheelchair, for example, naturally want uncomplicated freedom of movement. However, visual accents count just as much. This is where architecture meets accessibility. In other words: Accessible solutions keep in the background, although they are perfectly implemented.
Surprising but clear: child-friendly solutions also play a major role when it comes to accessibility. Here, for example, cheerful and contrasting colours come into play to instruct and stimulate children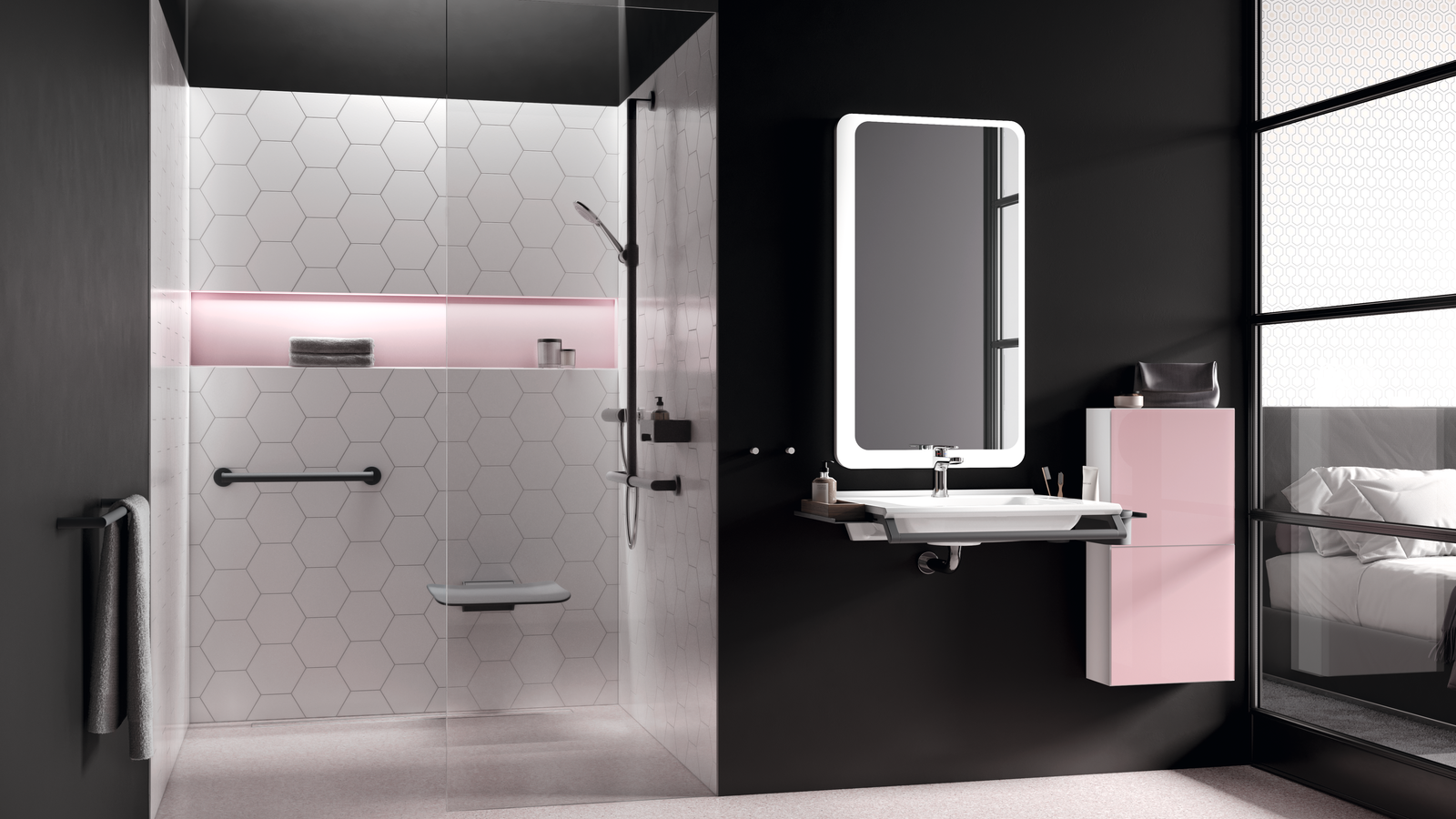 1. Accessible sanitary solutions for public buildings and hotels
Are you looking for high-quality sanitary solutions for B2B objects? Well-being and independence make System 900 an attractive sanitary solution. We do not only pay attention to a simple-modern product line, which convinces with clarity and perfect handling.
This is also about sustainable material with high functionality. Suspended or permanently installed shower seats, which are easy to handle in the wet area, are also part of System 900, as are flush-fitted hinged support rails for quick and effective cleaning. Non-slip surfaces meet the increased need for safety, especially in old age. For optimum comfort, radio-controlled flushing. How does it look visually?
Shiny chrome or matt black as well as the puristic design of brush set, soap dispenser and shelf create aesthetic clarity in the wet area.
However, we are equally concerned with perfect hygiene. Sophisticated design therefore also means easy cleaning. What is the answer to the challenge at Professional Care? Hardly any joints due to precise manufacturing, smooth surfaces and few assembled sanitary components. Attention is even paid to seemingly minor details in the product design: for example, water does not collect thanks to rounded surfaces. It just drains away.
Matt surfaces set elegant visual accents. Finishes offered range from white to grey to deep black with hinged support rails, support rails, paper and soap dispensers.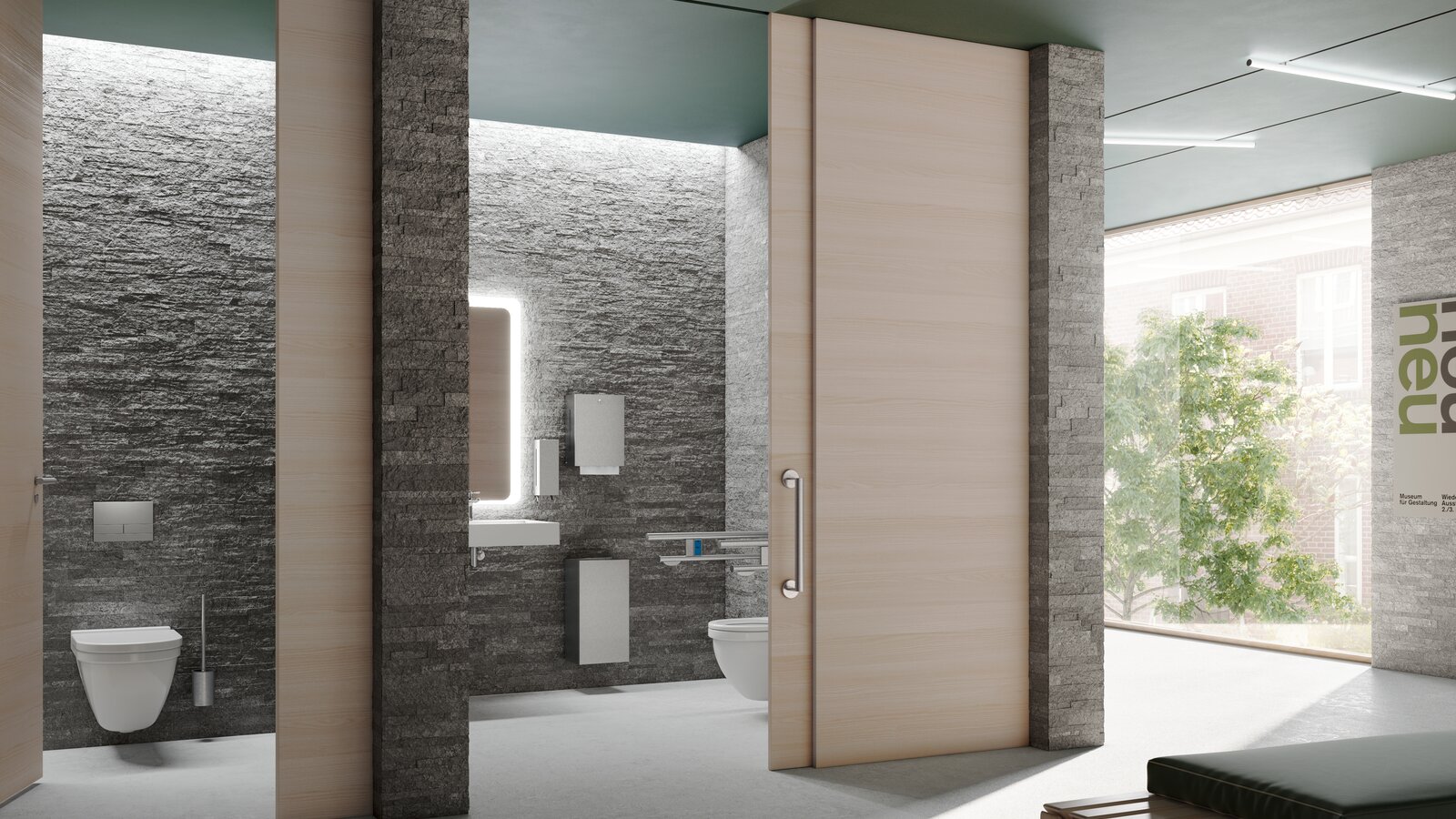 2. Classic sanitary solution in public spaces
Non-porous stainless steel convinces at Range 805 with smooth surfaces that can be cleaned with minimal effort. Range 805, a further development of the successful 801 line, convinces with sanitary solutions for public spaces: it combines the hygiene needs of different age groups with a skilful combination of function, appearance and stability. Advantages that can be discovered in the accessible sanitary rooms of the office building OttensenOpen.
The Classic Range 805 also relies on a reduced round tube design and extremely robust material. With this system, comfort and safety for the user are combined with effective protection against wilful damage - ideal for publicly accessible sanitary rooms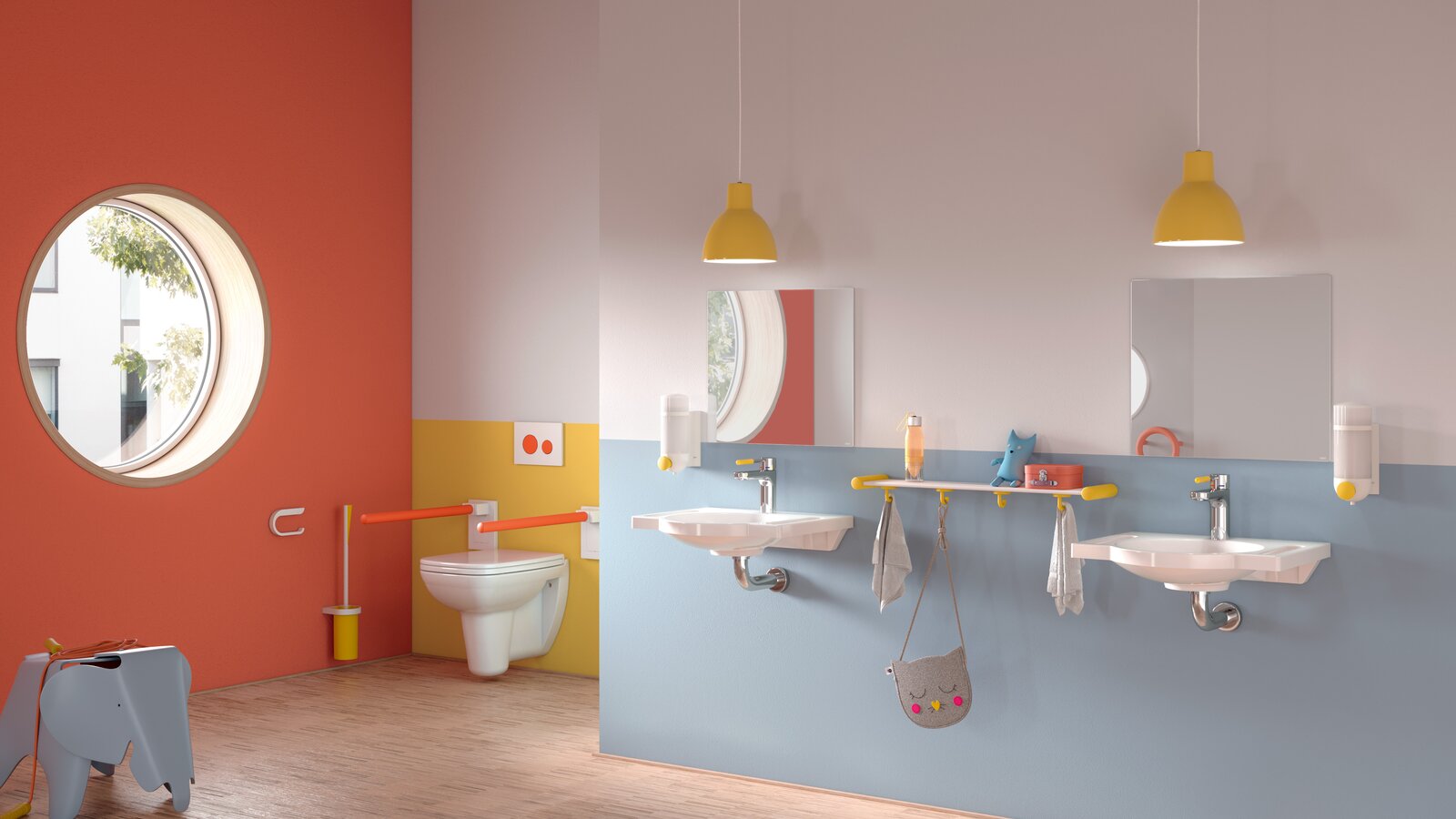 3. Perfect solutions for a safe and child-friendly environment
The smallest members of society deserve special protection. Here, fittings, mirrors, toothbrush cup rails and washbasins should not only convince through cheerful colouring and high functionality, but also through stability and safety as in the kindergarten in the Kammgarnspinnerei.
We meet the daily demands of vigorous toddlers with edgeless washbasins, where the risk of injury to children is minimised. These are compact and designed with narrow edges. This ensures the best possible range of movement. Bright colours and high-contrast modules ensure quick orientation and a sense of well-being for the children, even in the sanitary area.
When developing sanitary products suitable for children, the needs of children with disabilities should also be taken into account. Thanks to the modular principle, day-care centres and other children's facilities can be equipped precisely according to the respective requirements.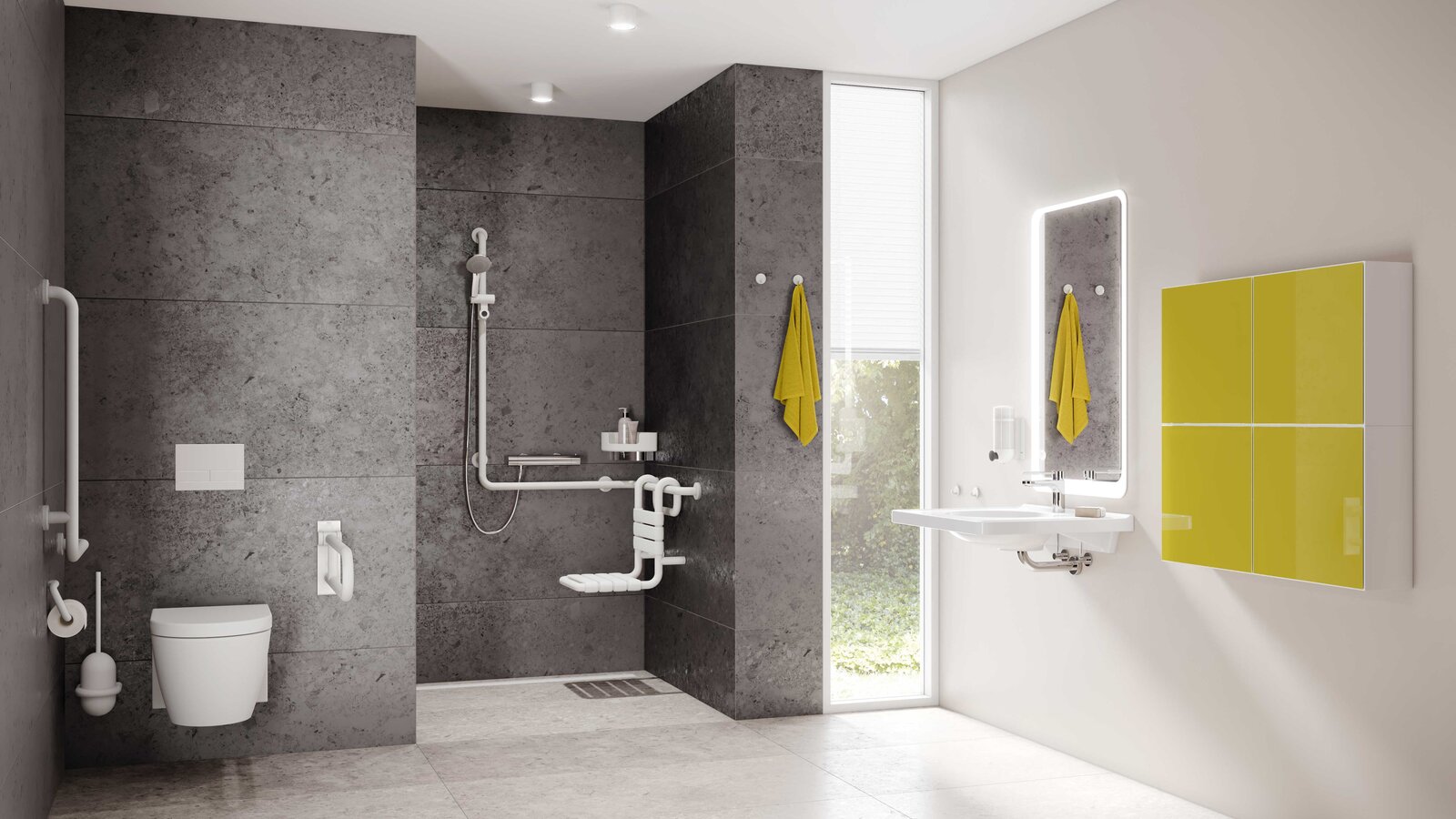 4. With 477 / 801 to perfect care
35 years ago, System 801 was the first accessible building system to address the needs of carers and people with disabilities or infirmities. Stable, user-oriented and functional, the sanitary solution has been further developed with appropriate accessories from Range 477. The all-round sanitary concept, which had never been seen before, was proof that everyone can and should experience a sense of well-being in the sanitary area.
Proven round tube design plays just as important a role in Range 477/801 as the material: polyamide is easy to grip and feels pleasant to the touch. From the grab rail to the shower curtain to the L-shaped grab rail, any part can be made to suit structural requirements. Steel cores in seat modules ensure optimum support, colour contrasts provide the best possible orientation.
Despite maximum functionality for nursing homes and care homes, Range 477/801 is also about design elements. That is why there is a choice of matt finishes in various shades of grey through to white. In this way, any environment can be furnished to an aesthetically high standard. The premium quality of the 477/801 series can be felt thanks to its velvety surface - for example in the Clinic Dr. Decker in Munich.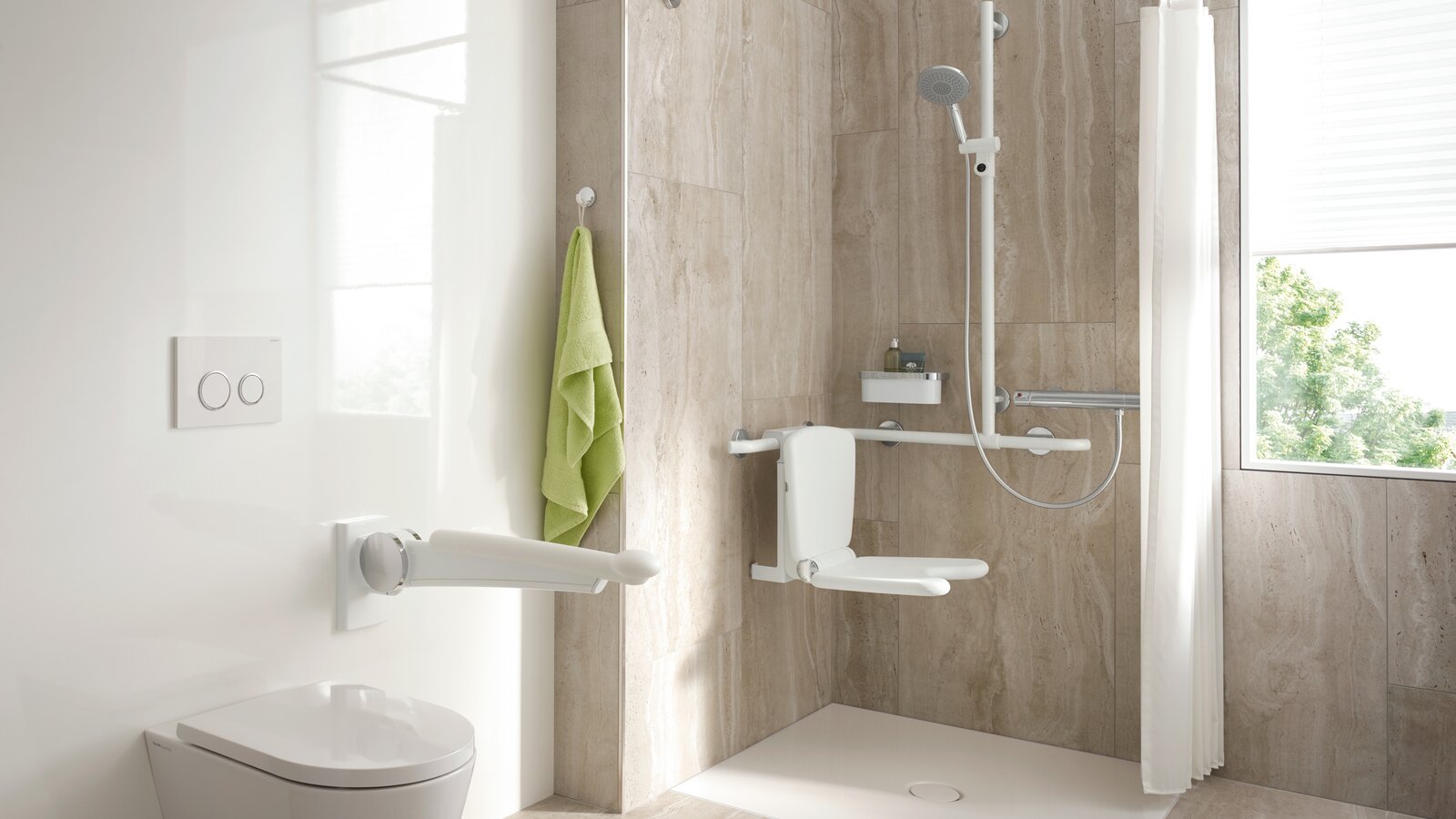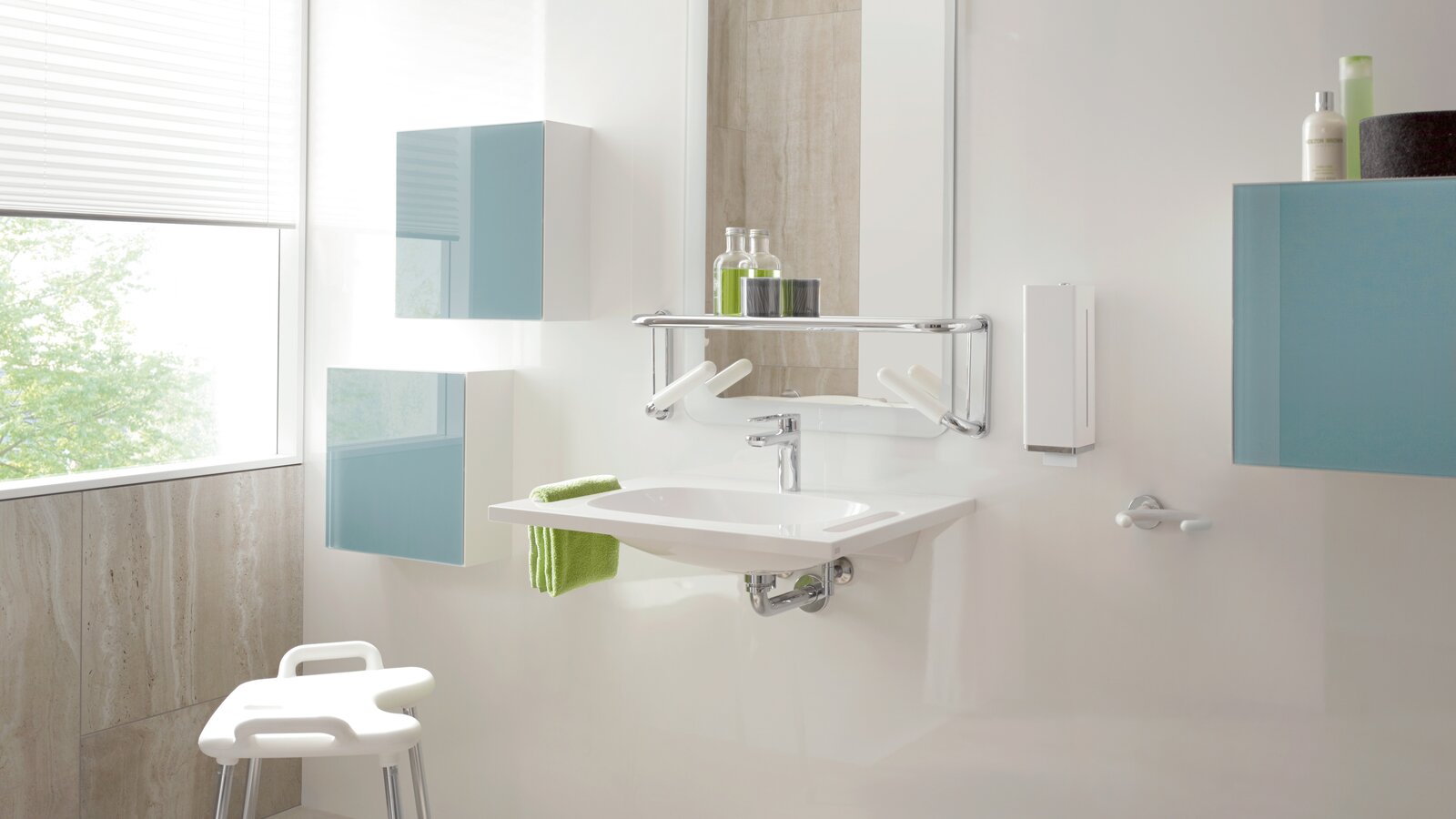 5. LifeSystem for individual requirements and high functionality
LifeSystem meets all the needs of people with reduced mobility. A secure hold thanks to handles integrated into the mirror or the conical shape of the brush holder show that every detail has been well thought out at LifeSystem. Shower curtains and handrails can be individually adapted and implemented in various combinations as required.
This system was also developed with an eye to the adjustable height of individual modules. This applies particularly to important areas in nursing care, such as hinged support rails on the toilet or height-adjustable shower seats. Elements and touch surfaces can be ordered in different colour variants and support visual, haptic as well as aesthetic requirements.
Which of these five systems best meets people's need for movement and mobility remains to be decided on a case-by-case basis. Solutions are available in series as well as in individual production.
Modules from HEWI: individually tailored to requirements
Safety, function and appearance challenge us at HEWI every day to develop sustainable system sanitary solutions. Professional technology and well thought-out solutions set standards for individual needs with handrails, washbasins, shower and seating facilities. Design and material diversity play a decisive role here. After all, it is always a question of finding aesthetically high-quality sanitary solutions that are convincing down to the last detail and adapted to the situation.
We regularly present sanitary solutions that are optimised for use in the respective property types. Stay up to date and subscribe to our newsletter. In this you will also find references that will provide you with exciting implementations in the object.