HEWI Mag / references
St. Antonius Hospital, Cologne
High-quality products that support patients in their independence contribute to a feeling of well-being.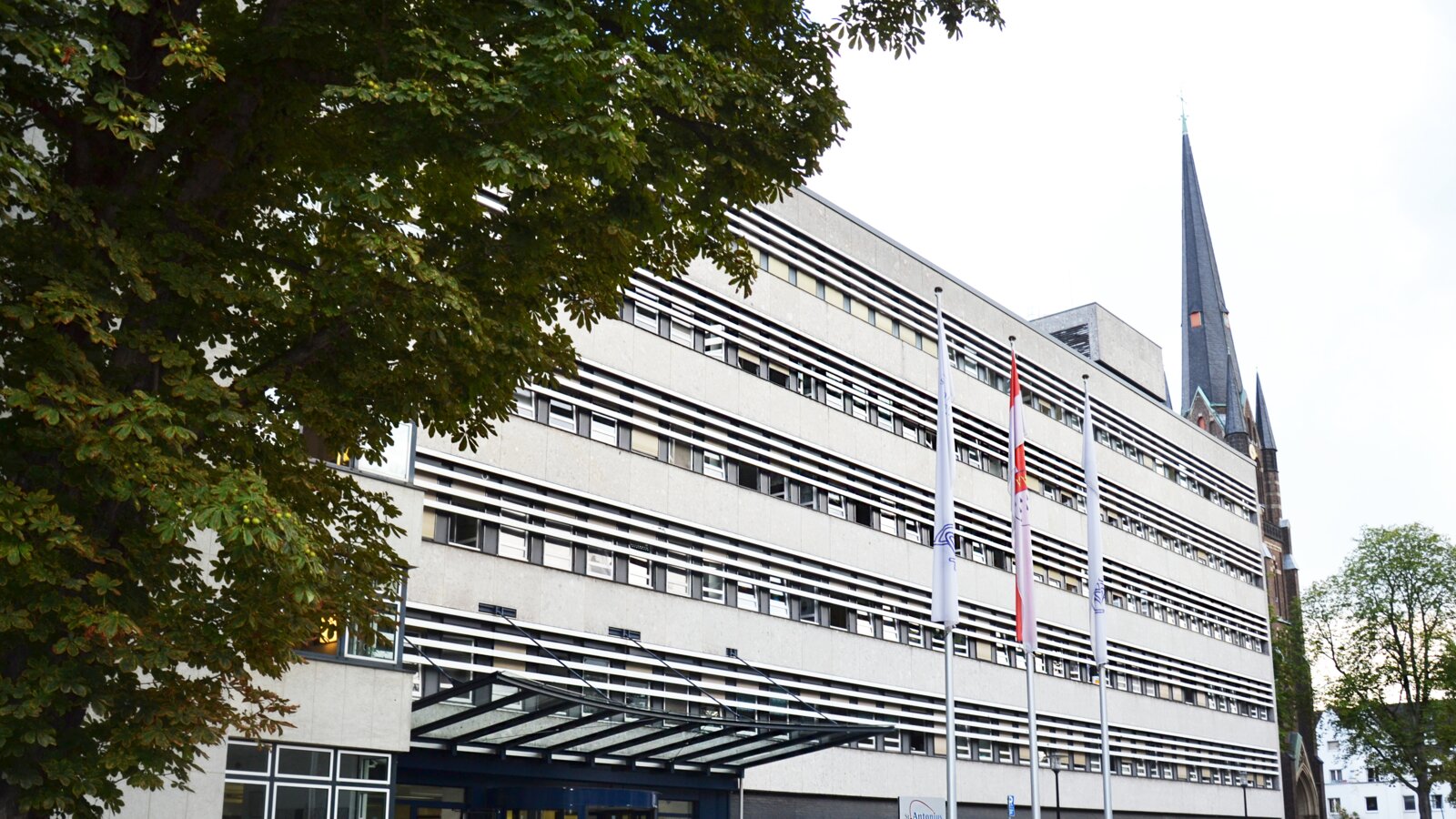 More than a hundred years ago the St. Antonius Hospital in Cologne was founded. The multi-wing building was constructed in the neo-renaissance style and was the largest hospital in the south of Cologne with 150 beds. It has been continuously expanded. In the fifties and seventies, timber-framed buildings were added, creating a four-part ensemble. The original east-west wing and the hospital chapel are listed buildings. Over time, St. Anthony's Hospital has developed into a regional health centre and offers both outpatient and inpatient care.
In accordance with the hospital's guiding principle "Focus on people", the aim is to make the patients' stay as pleasant as possible. This includes medical care, personal attention and the furnishing of the patient rooms. Safety, hygiene and comfort are important aspects for the design of the patient bathrooms, which had to be taken into account during the conversion and extension of the nursing ward.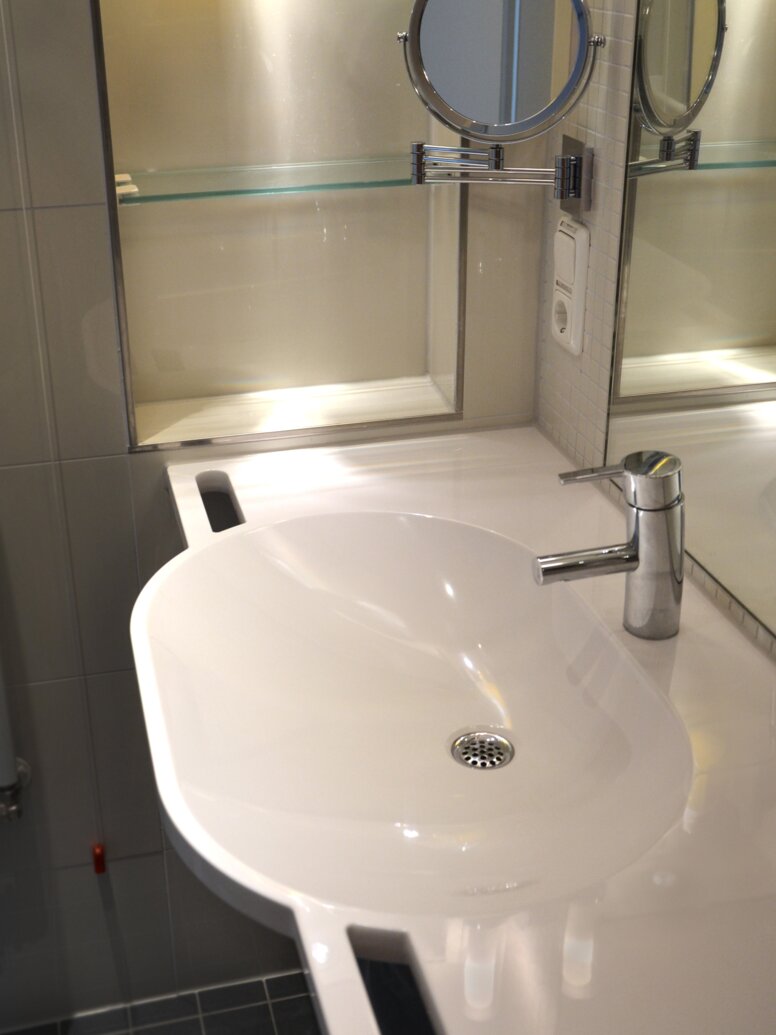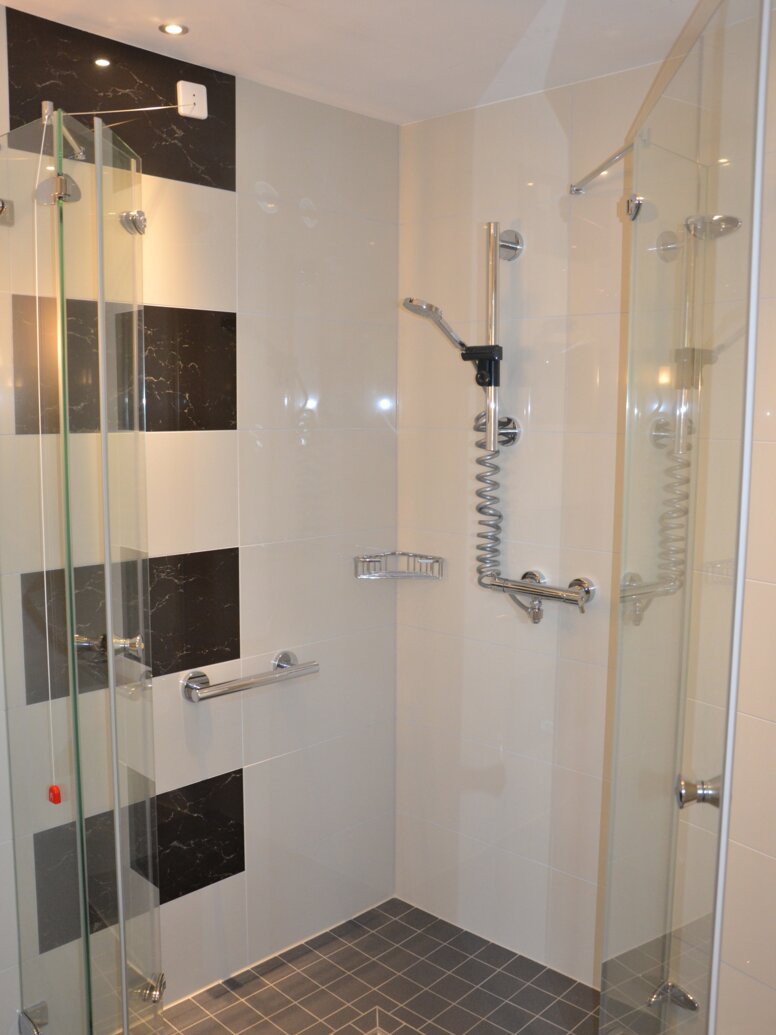 The high-quality furnishings also give the bathrooms in the optional service area a feel-good atmosphere. The barrier-free products integrate themselves into the design. The washstand, which can be driven under, can be used both standing and comfortably sitting and is not recognisable at first glance as a barrier-free product. Integrated handles provide a secure hold and make it easier to stand up: the generous storage area offers plenty of space for bathroom utensils. An overflow was deliberately omitted from the washbasin.This and a non-porous surface make cleaning easier and increase hygiene.
The floor-level shower has been fitted with WARM TOUCH handles to provide reliable support for the patient. The handles are made of chrome-optically coated polyamide. This makes them particularly pleasant to touch, as they have a warm surface. Due to their chrome look, they complement the accessories chosen in high-gloss chrome. Functionality that gives the patients security as well as high-quality equipment enable a comfort bathroom in a timeless design.
Object type
HOSPITAL REPAIR CENTRES
Architect
Klaus Zimmer Neuwied
Client
St. Antonius Hospital Cologne